Shake Shack attracts many at new West Hartford location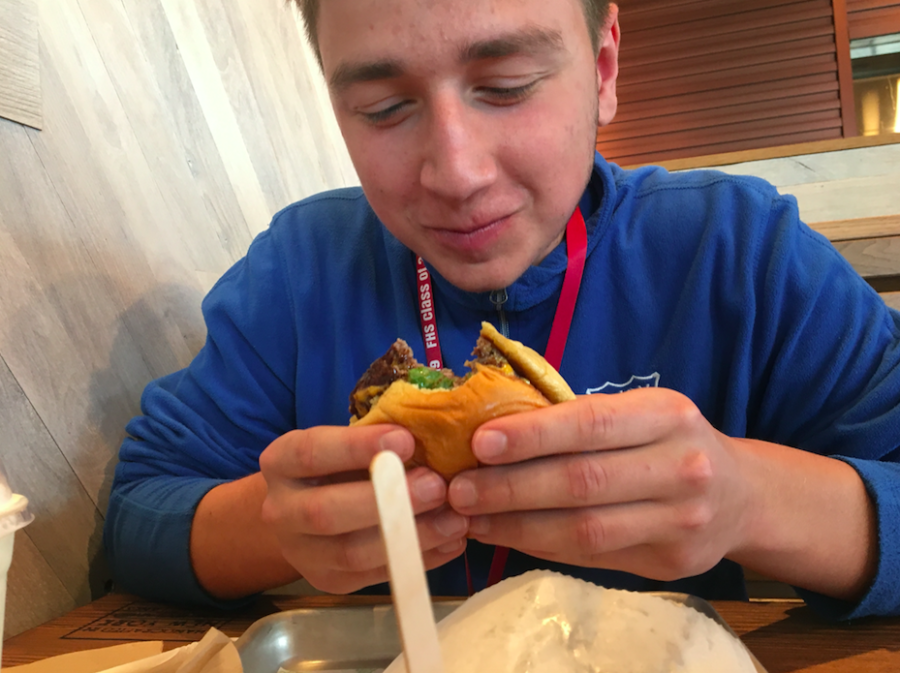 Bella Podgorski, Editor-In-Chief
May 29, 2018
As of April 27, the popular food chain Shake Shack opened in West Hartford for locals to enjoy a variety of burgers, hot dogs, shakes and more. Located in Corbins Corner, this is the fourth Connecticut location and has attracted many since opening.
Upon arriving at Shake Shack, the line was practically out the door. In fact, after speaking with workers when I went to dine on May 11, it has been out the door since opening. Ultimately, this has caused wait time for customers to order and receive
their food.
However, the 15-minute wait was worth it. I chose to order the single "ShackBurger," which is a cheeseburger topped with lettuce, tomato, and ShackSauce. Not only was this a classic twist on a cheeseburger, but the flavors that blended together
with their secret ShackSauce, a more tangy type of mayonnaise, was worth every bite.
Although $5.49 for a single ShackBurger and $8.29 for a double may be a bit pricey, this will fill you up and satisfy your fast
food cravings in one meal. Other options such as the "SmokeShack" burger also contains the ingredients of the ShackBurger but with added bacon and pepper, costing more than the original ShackBurger, but adding even more flavor.
It is important to note that all burgers are cooked "medium" unless asked otherwise. Shake Shack uses all non-genetically modified ingredients and even offers specials for dogs. This includes "The Poochini" and "Bag O' Bones."
In addition to a variety of cheeseburgers, the menu offers a selection of flat top hot dogs for a reasonable price if you aren't in the mood for a burger. Chicken options are also available in both forms. For an extra cost of $2.99, you can add crinkle cut fries to your meal, which are not overly crispy or soft, but the perfect taste and texture to eat alongside a burger. I was able to share my order of fries with a table of friends and still have enough to fill me up.
Generally, the portion sizes are very reasonable. Choosing to share a shake with my friend, however, was also a smart move considering I was full from the cheeseburger and fries. Shake Shack offers a range of flavors of milkshakes from vanilla and chocolate to coffee and peanut butter. The chocolate shake was thoroughly blended and not overly sweet. It was a good addition to the meal.They also sell handmade frozen custard in both cups and cones as well as floats.
Overall, the atmosphere of Shake Shack captures the experience as they have both indoor and outdoor seating and a very teen-friendly environment. Although I saw people of all ages, mostly teens filled the shack, enjoying their burgers and shakes with
friends.