Senior pursues interests in Performer to Podium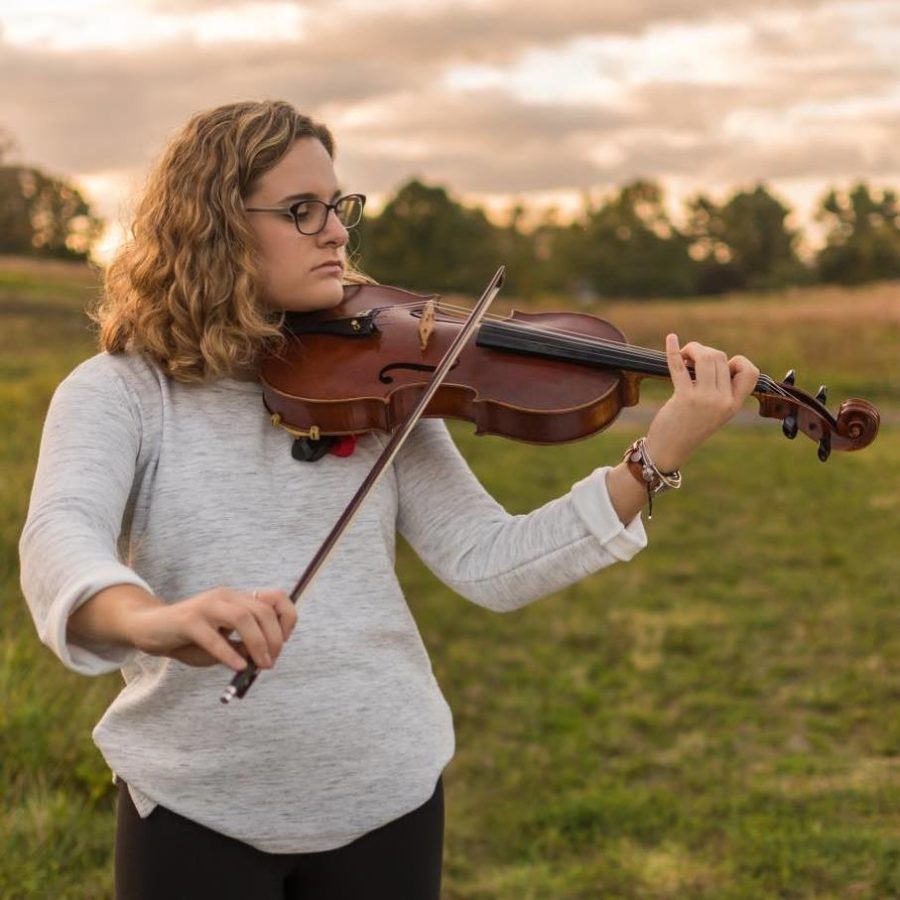 Bella Podgorski, Editor in Chief
April 4, 2018
As a result of her passion for playing the viola and future interest in business, senior Ashley Vogler chose to pursue the "Performance to Podium" capstone, with a focus on the music business industry.
She has been supported by capstone teacher Louise Carrozza through Vogler's four years in the schools orchestra Her  friends and family have been a larger influence throughout her music career, which now she is extending through this capstone.
Vogler has been playing the viola for three years after playing the violin prior. She has had the opportunity to perform, and learn from a variety of experiences, including the past two summers where she traveled to The Dolomites in Italy.
On this music campus, she was able to play in the pit of operas, chamber groups, and large ensembles. This experience among many, contributed to Vogler's choice in pursuing the performance to podium capstone.
Through this process, Vogler has realized the amount of work it will take to make it in the music industry.
"Among the many things that I have learned about myself by taking this capstone, one main thing that really stood out to me was the amount of responsibility, commitment, and passion you have to have in order to work in the music industry," Vogler said.
According to Vogler, this capstone has given her the opportunity to speak to people in the field she is most interested in. Recently, she had the opportunity to meet with Christian Lyhus through the Bushnell. This particular community contact helped her  understand how the industry works.
"It was really cool to see how Mr. Lyhus had built up his career, he told me that connections in the music industry is everything when you are trying to find a job and build up a reputation. That alone has really helped me realize that outside of just my capstone, that is something that will be really important as I continue my career," Vogler said.
Additionally, Vogler has spoke with many other community connections and has researched the various job opportunities and salaries of people within the music industry.
On March 14, Vogler spoke to students and faculty members in regards to the importance and opportunities available to people interested in all these careers as part of her capstone. This presentation was representative of Vogler's effort she has put forth from the start in her capstone.
"From the beginning, she always knew her project would be about discovering careers in the music industry that she could pursue in the future. She has shown a dedication to discovering as many options as possible through networking with professionals in the field and through her own research," Carrozza said.
In addition to Carozza, friends of Vogler have been supportive of her capstone and overall music career thus far.
"Over the year, Ashley has realized what she needs to prioritize in order to answer her driving question. She has also realized what business careers are best fit for her and what she thinks she will pursue in college, which is great to know right before graduating, senior Sasha Goldblatt said."
Vogler plans on majoring in viola performance and possibly double major in music business when she goes to college. She is looking forward to  being able to focus on her performing skills as well as learn more about the business aspect of music.