World Awareness Programme Club donates to India through trivia
The World Awareness Programme club hosted a Trivia Night on March 16 from 3 p.m. to 4 p.m. in the library, raising over $100 for the Akshaya Patra Foundation, an organization located in India.
"The Akshaya Patra Foundation takes donated funds and mass produces lunch meals to feed the impoverished children at school. They also buy school supplies and sometimes directly help families. However, their focus is on supporting poor school children," junior World Awareness Programme co-President Yash Sabarad said.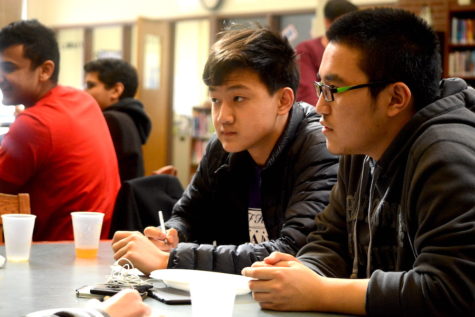 Students paid a ticket fee of $5 per person and could participate alone or in teams with up to six members. Winners of the trivia competition won a $60 Amazon gift card. According to junior Kieran Mangla, the Trivia Night consisted of a total of 25 questions from various topics such as sports, science, history, geography, and general information.
"I saw this event as a fun way to fulfill our ethical responsibility of helping underprivileged students around the world who don't have the same essential school materials that we have," junior Ethan Grubelich said.
Overall, there were 32 students that participated in the trivia night. The winning team was comprised of juniors Grubelich, Huaxuan Chen, Brian Peng, and Nate Landry.
"It was very fun to cooperate in the competition with my teammates. The atmosphere was electric with the tense anticipation of the next question that could put you closer or farther from victory," Peng said.
In order to make this event possible, the World Awareness Programme Club split into groups based on different tasks that needed to be completed. Groups included the brainstorm committee who thought of the idea of a Trivia Night, the marketing committee which was led by Sabad, the planning committee which was led by Mangla and the hosting committee which was led by junior co-president World Awareness Programme Pranav Tavildar.
"As a member of the hosting and planning committee, I was in charge of generating the questions and acting as the host for trivia night. I sourced many different topics to find challenging yet engaging questions for each topic to really test the participants' overall knowledge. This way, we could see what teams really knew rather than how fast they could answer," Mangla said.
Sabard and Tavildar established the World Awareness Programme club last year with the Trivia Night being the first large fundraiser the club hosted. As both Sabard and Tavildar used to live in India, they knew they wanted to support the Akshaya Patra Foundation because of the connections they had formed with people in the organization. One of Tavildar's friends in India had established the program to help fund multiple medical clinics and spread awareness about healthcare in India. Tavildar decided to expand the program to the high school.
"The World Awareness Programme is an organization that strives to improve the condition of the public by raising awareness about the difficulties faced by the underprivileged members of our society and taking a direct initiative to foster positive change in our community. We aren't necessarily a community service program but rather a community activism program. It has truly evolved into a different organization in itself based on the hands-on nature of our work as it is primarily student-lead," Tavildar said.