Farmington district remembers beloved teacher, friend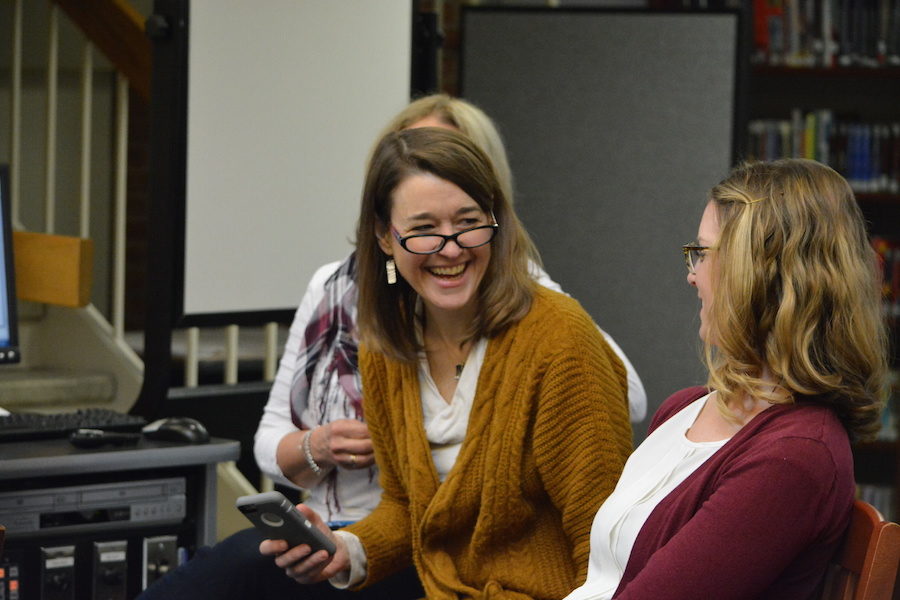 Kita Karna, Copy & Design Chief
September 28, 2017
On September 16, Department Leader of Library, Media and Technology K-12 Martha Burr passed away due to cancer, leaving a legacy at Farmington Public Schools. While her office resided in the high school library, her work was pervasive throughout the district.
Burr was hired as an English teacher in Farmington in 1997, having been previously employed by Hanover High School in Hanover, NH and Valley Regional High School in Deep River, CT. At the high school, she taught English before taking on the role as Department Leader for library and media for the district. Burr was also recognized for her immense work by being named Teacher of the Year in 2014.
"First and foremost, she was a great teacher; she spent a great deal of time in the classroom, first as an English teacher. Then, when she became a library media specialist, she really saw her role as one of improving teaching and learning, and that's why she was named Farmington's Teacher of the Year in 2014. She was a  teacher of both children and adults. Certainly, the adults who had the privilege of working with her were always learning from her, so I think her contribution was just as an exemplary teacher and someone who set the standards very high: both the expectations she had for herself and for others," Principal Bill Silva said.
Burr was instrumental in the operation of the Capstone program. As head of the Capstone Steering Committee, Burr was in charge of ensuring that students in the program were successful and able to have worthwhile, meaningful experiences. She led teachers in designing capstone classes that would engage students' interests, continuously reflecting on how to improve the program and how to celebrate student achievement.
"Martha was absolutely brilliant. She just thought everybody could succeed. It didn't matter where you came from, demographics…She was behind the scenes on so many different things that people don't know about; I mean the whole capstone project is her baby, with the help of a lot of other people. Her contributions just touched so many people's lives in a variety of ways," fellow steering committee member Kelly Stokoe said.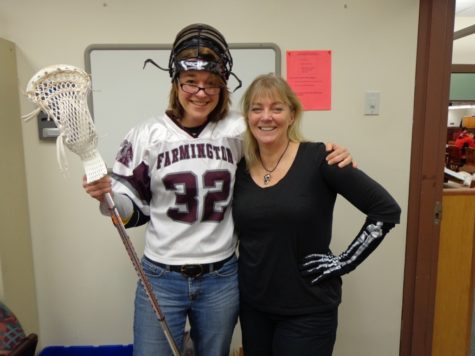 In the past few years, Burr taught both Custom Capstone sections with Stokoe as well as the Educational Internship Capstone with School-to-Career Coordinator Kristi Ohanesian. Students are grateful for the experiences she helped in offering them. 2017 alumna Cathryn Tuttle took the Education Internship Capstone with Burr and feels that the experience helped her as a first-year college student pursuing education.
"Mrs. Burr has been a great role model of mine since I first met her. Her passion for education was truly inspiring. She encouraged myself and my peers to take pride in our pursuing teaching careers, and she was always pushing us to improve ourselves as students in the Capstone classroom and as teachers in our internship classrooms. Mrs. Burr's classroom was such a positive, welcoming environment for all of us aspiring teachers to share our passion for teaching and learning with a successful teacher and with one another," Tuttle said.
Aside from coordinating Capstone, Burr also led the New England Association of Schools and Colleges (NEASC) visit that took place in 2015, creating committees and focus groups. Burr was also a founder and chair for the Book Lover's Committee, a group of teachers set on promoting literacy around the building. She helped to coordinate the last two celebrations of reading and in creating the 9:05 segment, "Whatcha Readin'," which highlights a book a student or faculty member has read. Its continuation is a testament to her legacy and her goal of promoting literacy.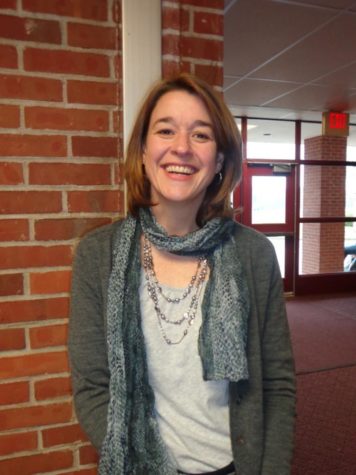 "She helped us found Book Lovers, which was originally a group of teachers coming together to try and promote a greater love of reading around the building. Teachers would get together after school and we would try and think of different initiatives that we could implement to make the school environment feel like a more welcoming place, where kids could read and talk to teachers about books. From there, we started to develop student book clubs that have continued to grow over the years. With her guidance and leadership last year, we started to plan our first ever Lit. Fest which is happening this November," literacy specialist Jessica Tolles said.
Among her colleagues, she was known for her kindness, leadership, innovativeness and her "candy soup," a term she used to describe the minty flavor given to the chocolates that were set next to the Lifesaver mints in her desk drawer. Her professionalism and warmth helped in the growth of many district teachers and professionals.
"Mrs. Burr was a leader in so many ways. She always put great thought into the things she said and did.  I would watch her when someone asked a thoughtful question. She would close her eyes and think before saying anything. It only took a minute, but I felt like I could see her thoughts forming before she spoke. Mrs. Burr was always reading and learning about new things. She truly had intellectual curiosity. She learned because she was interested, not because she had to," library media specialist Nancy Carlson said.
Burr not only left an impression on newer teachers but was a role model to friends and colleagues who had known her for several of the twenty years she had been employed by Farmington. Her enthusiasm for being involved and for forward-thinking was infectious among her peers and helped to promote lifelong learning. Her mission to promote the written word will be carried on by her colleagues.
"Martha's father was an episcopal bishop in a church, and he would write to his members all the time. When Martha's father died, when she became Teacher of the Year two years ago, Martha had said that her legacy to him was to write people notes; and so she would always leave me notes around. That's going to be my legacy to her: to write people notes," Stokoe said.
A memorial scholarship has been created in Burr's name. All memorial donations may be made to "Martha Burr Memorial Scholarship," attention Katie Robidoux, Farmington Public Schools, 1 Monteith Drive, Farmington, CT 06032, or be dropped off in the Main Office.
---
The following are messages about Mrs. Burr from faculty and students:
"Mrs. Burr was the one teacher I've had that really believed in me from the start. She is one of the main reasons I'm going to school to become an educator today."
-2017 alumnus Tate Macdonald
"Mrs. Burr really helped me through capstone with her never-ending support. I will always remember her patience and kindness towards me and all of her students. And I hope one day to have the same passion and love towards teaching and students."
-2017 alumna Shannon Fillian
"Mrs. Burr helped me a lot through the Education Capstone course at Farmington High School. I will always remember her willingness to teach us something new every day and her guidance that led us, as students, to appreciate the teaching world so much more."
-2017 alumna Cynthia Serna
"Going into the Education Internship Capstone, I was unsure if it was the right decision for me. From the beginning, Mrs. Burr helped me explore the many resources available to me and made it clear that she was always there whenever I needed guidance. Through her passion for teaching, I was able to discover how truly amazing and rewarding of a career it is. Without her guidance and support, I don't think I would have found my own passion within education, and I can confidently say that she is the reason I am so inspired to teach."
-2017 alumna Lexi Liberno

"Every time I worked with Mrs. Burr, what shone through was her passion for teaching and for helping everybody around her. The work she did pulled our community closer together. She will be missed."
-2017 alumnus Allen Haugh
"There are so many times I remember Mrs. Burr being a rock for us–whether it was her trustworthiness or reliability. She has a steadiness where you always know you are in good hands when you're working with her. Without her support, management and close care for the Capstone program, I know for a fact that so many projects and dreams would not have come to fruition. Thank you, Mrs. Burr, for all you have done for us."
-2016 alumna Annabelle Lee
"Martha sought understanding before judgment and always listened in a way that made me feel safe to share stories."
-Health and wellness teacher Courtney Landheer
"Martha was my FHS big-sister. Whenever I needed to clarify my thinking or reassess my perspective she was my go to. She was that rare person who really listened and took the time to offer advice in the kindest way. I'm a better person for having known Martha, and I'll miss her terribly."
-English teacher Tracey Barlow
"Martha had the ability to take the big picture of the VOG and blend it in with what students can do in real time in the classroom at FHS. Martha was the voice of reason in meetings, and she had the foresight to plan for things that no one else was thinking about. Martha brought everyone together and everyone loved working with her. I don't know anyone that ever said 'no' when she asked a favor because you knew Martha was always working tirelessly for students, and she made you push yourself to want to do more to help students succeed."
-School counselor Chris Loomis
"Martha had this keen way of saying exactly what you needed to hear–even when it was difficult to hear it–without aggression, pretense, or discomfort. She also had this endearing way of saying it; she would lean back, place her glasses atop her head, and often cross her arms over her chest. The gesture, the pause, then the words–she always knew how to push our shared work forward. She and her unique insights will be so very missed."
-English Department Leader Amy Miller
"Martha had this incredible way of making it apparent that she cared and loved the people around her. I will fondly remember the mornings where I would go to use the coffee machine in the library. She would place her hand on my shoulder and enthusiastically greet me, ask me about my family, my school work, the newspaper…No matter where our conversation went, she always told me how proud of me she was. And in those moments, I felt proud of myself too. I will miss incredibly my mentor, hero and friend."
-English teacher MJ Martinez
"Martha truly understood the limitless potential of students. She worked tirelessly to craft experiences that allowed kids to shine."
-Social Studies Department Leader Nichole Richman
"I met Martha Burr almost 20 years ago when we both started working at FHS. Over the years, we grew close, not just as colleagues but also as friends. I admired her amazing intellect and ability to think creatively when it came to all things academic, but what I loved most about Martha was her kindness and generosity as a human being.
Martha and I shared book recommendations and recipes – two of our greatest loves! We went out to dinner with our school friends, shopped at Marshalls, talked about our kids and planned an annual summer pilgrimage to Maine.
She had a unique ability to balance the many parts of her life: work, friends and family, but it was clear to everyone who knew Martha that her family, Dave, her boys, Caleb and Josh, and her  little 'wild' dog Daisy (a good girl!) was always at the top of her priority list.
Martha Burr has left an amazing legacy and the impact of her loss to the District and to me personally is immeasurable. We will continue to carry on, as best we can, the great work that she started, knowing that she will always be in our hearts to guide us along the way."
-School-to-Career Coordinator Kristi Ohanesian
"She had a way of turning around any conversation so that the focus was on you. She really cared for each person she had interactions with."
-Science Department Leader Rebecca Shomo