IBA gets underway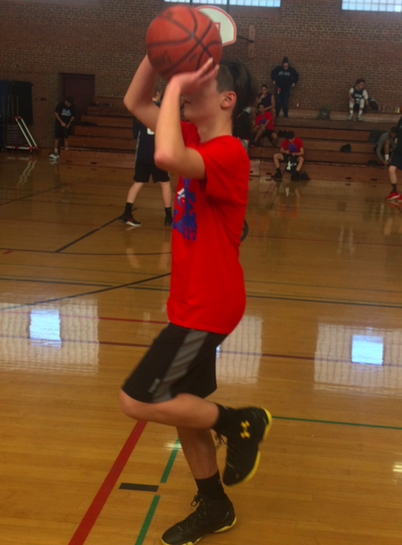 Brendan Walsh, Staff Writer
January 13, 2017
Hang on for a minute...we're trying to find some more stories you might like.
Intramural Basketball Association (IBA) has kicked off its season, with all teams participating in their opener games on Saturday, January 7. There are 14 team competing in this year's IBA season.
IBA is run by commissioner and four-time silver medalist Jeff Daddio. Each team is comprised of academically eligible students, with the option for a teacher to join their team. Daddio fell short of a championship title recently and looks to end that streak this season.
"Last season featured an all-senior championship. So I'm looking forward to seeing which teams step up and take on the role of favorites in the 2017 IBA season," Daddio said.
Junior Zac Conrad is con dent his team will win the championship this season along with friend and junior teammate Dante Colagiovanni.
"Well, since my team is going to hoist the trophy, we will be going for gold and having fun," Conrad said.
Games take place on Saturday, with each team getting one bye week during the regular season where they will not have a game for that week. Games are 20 minutes long and have a running clock, meaning the clock cannot be stopped until the final minutes of the game where the clock can be stopped.
"The only change I would make is making the games longer than the 20 minute game time. It's hard to drop 50 [points] when I only have 10 minutes to do so," Conrad said.
Senior Ryan Witter, member of the Washington Wizards, is looking forward to this upcoming season.
"I'm looking forward to playing alongside my line- men brothers and just absolutely bodying all the teams we come up against with our size. We may struggle to shoot and dribble but we will get all the rebounds," Witter said.
Witter is also looking to go all the way and win the championship this season.
"We de nitely want to win the 'ship this year, but we also want to have a fun time out there but still keep it competitive and try to win," Witter said.
Though teams are aiming to win the championship this season, some teams simply participate recreationally. Senior Margaret Costello and her friends joined IBA hoping to have fun and win a game or two.
"I am looking to have fun with my friends and get some exercise before the [lacrosse] season starts. My team and I are mostly in it for fun but we have a pretty good chance of winning the gold," Costello said.
The eight teams with the best records make the playoffs after the regular season, which is slated to wind down at some point in March. All games will be held in the old gym until the championship game, which could be held in the new gym. IBA looks towards another fun-filled, exciting season where anything can happen.