Students participate in Electrathon event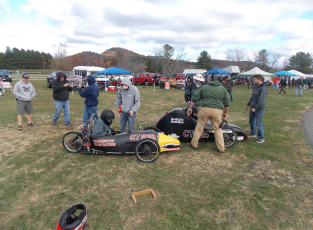 Bella Podgorski, Managing Editor
November 10, 2016
Students involved in the Alternate Energy/Vehicle Design course run by technology education teacher James Corrigan competed in the Electrathon event that took place in Limerock park on November 4.
The competition is designed for students to drive, repair and diagnose vehicles at the track. The event invites high school and college students from all over the Northeast to test the efficiency of their self-designed electrically powered vehicles.
According to Corrigan, the fall race is a practice for the spring race where most teams will have a brand new vehicle designed and built over that school year to then perform in the spring competition.
"I enjoy the event no matter where we place and like to see the students talking with other schools and individuals about the processes to build the vehicles. Seeing the pride and excitement of the students as they describe welding the frames and forming the carbon fiber shells is the best part," Corrigan said.
Due to mechanical problems that included wheel spokes breaking mid-race and minor electrical problems, the team did not place as highly as they had hoped with the other competitive teams. Students who worked on these cars are looking forward to improving their new car and minimize these problems for the spring.
"It was a good time despite having electrical problems with one of the cars. Other than the faulty car, the other did really great," senior Michael Rose said.
The students have been making changes to the 2015-2016 electrathon car finishing with 39 laps in one vehicle and 29 in the other.
"It was a lot of fun, and although neither of our cars performed very well, we will be looking to avoid some of the problems we encountered with the cars from previous years in our construction of a new car this year," senior Skyler Szot said.