Elementary teacher honored as Teacher of the Year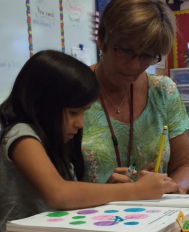 Bella Podgorski, Managing Editor
November 1, 2016
Hang on for a minute...we're trying to find some more stories you might like.
After 36 years of teaching, Union School second grade teacher Melissa Dale received the honor of 2016-2017 Teacher of the Year. This award honors a teacher who exemplifies the district's ideals of inspiration, innovation and compassion.
"I am absolutely honored to receive this award. I work with some of the most gifted and dedicated teachers in the country. I hope I can represent all the teachers in Farm-
ington in the way they deserve," Dale said.
Dale has been working in Farmington public schools for 20 years at Union School and has served as a Math Resource Team Leader.
As a veteran teacher, Dale continues to keep in mind the effect her teaching will have on her students and continues to pursue her love for teaching young learners today.
"Our job has become more challenging with more demands on us every year, but the second my students walk in the door all that is pushed aside. I love getting to know each of them, and I take great pleasure in laughing and learning together. I especially love watching them grow throughout the year as learners, friends, and responsible citizens," Dale said.
As an elementary school teacher, she enjoys spending her days seeing the world through the childrens' eyes. By helping her students conceptualize information and problem solve on a daily basis, she was able to receive this award as a representation of the way in which she teaches. Students have taken notice to this dedication.
"She deserves this award because she puts so much effort into helping her students have a great learning experience," junior and former student Taylor Hennig said.
Along with her cooperation with students, colleagues have been an influential part of her journey. Dale acknowledged that it is important to understand that none of her accomplishments have been achieved on her own. Her colleagues feel the award is well-deserved.
"I have become a better teacher from working with Mrs. Dale. She has strong, positive relationships with students, parents, and colleagues. She is respected by all who know her," second grade teacher Ellen Burstein said.
Colleague of six years and math teacher Kara Silva mentioned how Dale's deep roots in the Farmington community have contributed to her enthusiasm and thoughtfulness within the classroom.
"Melissa has been my mentor, colleague and friend throughout my teaching career. She has been so supportive, helpful and encouraging and has without a doubt, made me a better teacher. I am so proud of her and could not think of anyone more deserving of this honor," Silva said.