Fashion student designs take spotlight at charity event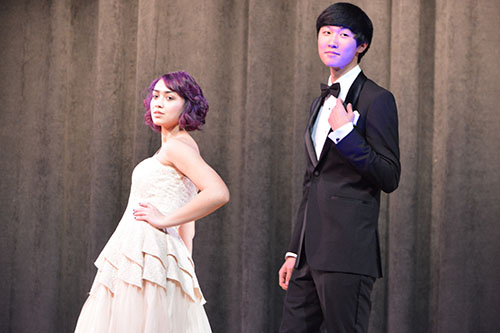 Fashion students had the chance to show off their pieces during the Fashion Show on March 10. Students took the roles of both models and designers and prepared original outfit design months in advance. Art teacher Katarina McKinney helped students in her fashion class and after school fashion club to organize the event.
Around 30 models volunteered to show off a student designer's work. Junior model Elise Abreu prepared by watching YouTube videos on the correct way to walk down the runway. Sophomore model Eliza Douglas described the way she learned to show off the clothing.
"The models kind of just walk; they have to find the best way to showcase their dress through the poses. As do the guys, they have to find the right way to make their tuxes pop," Douglass said.
Designers were particularly excited to see their pieces displayed for the first time on the runway. According to Douglas, they had to create and design their pieces from scratch. Fashion Club president senior Cara Galske went through this process.
"People cut the fabric, they make their patterns, but before they do all that they have to design what they want to do. Then they cut it based on patterns or they make their own patterns and sew it. Or, some students are doing unconventional materials which is basically anything but fabric," Galske said.
This year's show was themed around possible prom outfits and makeup. The fashion students were given this idea from a local boutique called LaBelle Chateau. In the beginning of the year, McKinney was asked by the shop if fashion students would be willing to put on a show partially sponsored by the boutique. They also offered to do hair and makeup on the day of the show.
In addition, McKinney arranged to have David's Bridal and Tasha's Tailoring each lend 10 evening dresses for the night. Everyday wear from local women's boutique Body Talk was also modeled. McKinney particularly enjoyed the way the students worked together to make the show possible.
"The good thing is that I'm just the guide on the side; the students are really kind of taking charge," McKinney said.
McKinney also attributes the success of the show to the help of Audiovisual Director Evan Foreman and his students who helped with both the lighting and the sounds. Senior Dexter Willett was the DJ for the night. Douglas looks forward to the show possibly continuing next year and becoming an annual event.
Douglas said, "I thought it would be a really fun experience to be with my friends and wear beautiful dresses and see everyone else looking really pretty."