Students showcase their talents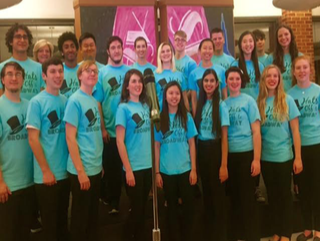 Despite the cancellation of school on its intended date, February 5, the Broadway Showcase Dinner went off without a hitch. Dedicated musicians traveled to the school, despite the day's storm, with family and friends because as they say in show business, "The show must go on."    The performance times were pushed back slightly to accommodate for lost practice time. The students involved completed a practice run of the schedule whilst simultaneously greeting and seating guests.
The overall show consisted of group performances by all students, Chamber Singers, Madrigals Men, Madrigals Women and the Men's Ensemble. It also featured multiple solos and duets. Senior Catherine Steffens had one of the solo performances, and sang "My Funny Valentine" from the musical Babes in Arms.
"I was a little nervous before going on, but knew I was prepared and if I messed up, my accompanist, Tristan Wong, would cover my tracks. During the performance I just focused on my breathing and remembering to have fun with this song. It felt great afterwards hearing my family and friends in the audience applaud for the work I put forward in this solo," Steffens said.
The hours of practice and dedication put forth by the accompaniment, singers and teachers that orchestrated the event secured the occurrence of the annual showcase rain, shine or snow.
"This is the eighth year of the Broadway Showcase Dinner. Students, parents and the community adore this performance venue because Broadway music is engaging and uplifting. I love the creative spirit it brings out in our musicians as they act, dance and sing their way into the audience's hearts," Music Department Chair Leslie Imse said.
Family, friends and members of the community were thrilled to bear witness to the showcase and the talent it displayed.
"I thought it was an wonderful evening of favorite Broadway hits performed by a very talented group of music students. We also enjoyed a delicious dinner from George's served by the students. Many friends at our table commented that they thought they sounded like professional singers," Denise Connolly said.