Rumpf raises the barre throughout dancing career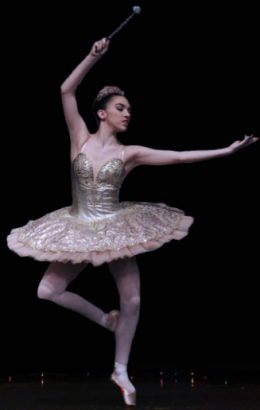 Matthew Pignatella and Destiny Rodriguez
February 12, 2016
Ever since she was two years old, senior Alex Rumpf has been dancing. Slipping on her ballet slippers, Rumpf started at Dance Incorporated in Plainville. Since then, she has trained in several other genres including modern, contemporary, jazz and a number of others.
"Over the years, dancing has become a way of life. I found I could express myself when I couldn't use words. In a way, I guess it kind of saved me. Dancing allows me to release any pent up emotions I have or release any strong emotions I was feeling," Rumpf said.
After struggling with depression, Rumpf turned to dance to blow off steam and surround herself with positivity. During the school year, she trains around 25 hours a week and nearly double that during the summer.
"I train to keep up the stamina. With any sport, if you don't practice, you don't get better. Because the risk of injury is so high within dance, it is crucial to keep up our strength and flexibility," Rumpf said.
Rumpf 's passion for dance was initially ignited by tapes of a Irish step dance group name Riverdance. According to Rumpf, she had watched the Video Home System (VHS) tapes of the group so much that it had worn out to point where it no longer functioned. Watching these tapes helped open up her dance repertoire.
"Dancing allows me to release any pent up emotions I have or release any strong emotions I was feeling."
"I love ballet. It's always been what I've done, but I prefer modern or contemporary. It's not as strict as ballet. You don't have to look graceful which is what I like about it. You can kind of go with what your body tells you to do," Rumpf said.
However, she didn't gain the drive to truly pursue dancing right away. Rumpf credits her dance teacher, Lori Jones, for encouraging her to put more effort into dance.
"It wasn't until I moved studios for the first time that I began to believe in my capabilities My first dance teacher didn't really push me as hard as I needed to be pushed. She didn't have that faith that I could make it to be the performer I wanted to be. It really took the push from Ms. Lori, saying that I had potential, that I persisted," Rumpf said.
Currently, Rumpf continues to train at The Hartford City Ballet, where she is mentored by instructors Dartanion Reed and his wife, Keiko Nakamura.
"Alex is a hard worker. She is focused and dedicated to achieving whatever she puts her mind to, namely ballet. Readily aware of her own strengths and weaknesses, she works day by day, week to week, and all year, every year to improve and to grow," Reed said.
Through their program, she has performed in multiple performances such as Snow White and, most recently, The Nutcracker, where she danced in eight different roles, including the Sugar Plum Fairy.
It was through Reed that Rumpf was able to make contact with one of her dance idols, Misty Copeland, who began training professionally at the age of 14. Copeland now works for the American Ballet Theatre and became the first African American woman to be given the title of principal dancer, the highest rank in a company. Looking up to her, Rumpf believes that anything can be achievable.
"I look up to Misty Copeland because she's a talented dancer who started late but still accomplished so much. I see much of myself in her, not because we both started late, but because we both started without adequate fundamental training. She gives me hope that I can achieve much in my dancing career," Rumpf said.
Rumpf is currently in Custom Capstone and has centered her project on her love of dance. The capstone is a self-reflection which will emphasize how much she has grown as a person and dancer.
She plans to choreograph several numbers which will be performed for the community. Rumpf plans to dance in a couple, the ones that mean the most to her, but to also recruit and train volunteer dancers for the rest. The show will be performed in April in the auditorium.
"The overarching theme that I want the audience to leave with is, no matter how alone you feel, you're never alone. I really want this piece to affect at least one life," Rumpf said.
  Rumpf 's adviser for her project is English teacher Debra Jeffers. Jeffers has taught Rumpf during her freshman and senior years in addition to mentoring her. According to Rumpf, there is no other teacher she trusts more than Jeffers.
"She has a very clear vision of what she would like her Capstone project to be, so I try to simultaneously help as much as possible and stay out of the way, making logistical and artistic suggestions as she asks for them. Alex possesses tremendous strength, tenacity, imagination, courage, and flexibility," Jeffers said.
Meanwhile, Rumpf will will be working toward an audition to The Juilliard School in late February. Juilliard is often regarded as one of the most prestigious music schools in the world, averaging around 850 undergraduate and graduate students annually, according to The Washington Post. She hopes to nail her audition with all the support of her friends and family behind her.
"I'm really happy to see Alex move forward with dance. As a friend it's crazy to know that she's doing things like auditioning to Juilliard and the American Ballet Theatre, when I used to just watch and sit in on her dance classes," senior Kayla Bozzuto said.
Despite her success, Rumpf knows there is still room to grow as a dancer and will look to pursue dance even if not admitted into Juilliard.
"I hope to keep improving as a dancer by continuing to train hard and constantly strive to be better than the day before because the sky's the limit," Rumpf said.