Mormon temple nears completion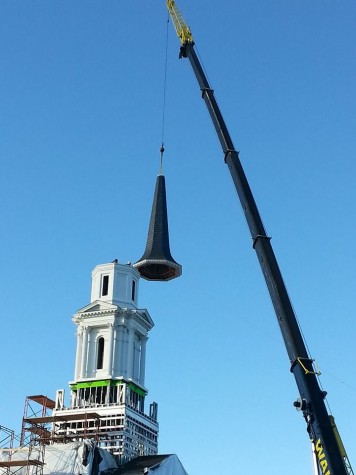 After years of progress, the Hartford Connecticut (Mormon) Temple on Route 4 is nearing completion with an opening date planned for fall of 2016.
  "Much of the interior work is done. They are putting the face on the building, the steeple is done and the angel Moroni has been placed on the steeple," Town Planner William Warner said.
  The angel is considered to be the guardian of the golden plates. Mormons believe that golden plates were the source material for the Book of Mormon, a sacred text of the Latter Day Saint movement.
  People living in surrounding areas who practice the Mormon faith are looking forward to the Hartford Connecticut Temple opening nearby.
  "I'm very excited about the temple being built here. Many members of our church have to travel long distances and save up a lot of money in order to make it to the temple. It's a unique opportunity to have one built just down the street from the high school," senior Nate Williams said.
  Before the temple is dedicated, there will be a brief period where members of the commu-
nity can visit and view the interior. After the dedication, the temple will be used for special ceremonies and services for those who practice this faith.
  According to the temple's public affairs representative Kelly Jacobs, this process has to follow specific guidelines that are tied to the religious beliefs of the Mormon people.
  "When the Temple is completed, there will be a two to three-week Open House, where all will be invited to come inside the temple and take a tour. We hope everyone in Farmington comes for a tour. I'm telling all my friends and neighbors about the Open House. This is your chance to come inside a Mormon Temple," Jacobs said.
  The temple is used for sacred ordinances and plans to be architecturally appealing.
  "The building itself is beautiful and blends well with other Farmington architecture. Historically, landscaping around these temples is meticulously manicured and pristine," resident Carol Ficks said.
  The temple is still under construction but has made much progress since the start of construction in 2013.
  With plans of landscaping and completing the drainage basins this spring, the temple is well underway to becoming an ideal space for those of the Mormon faith in the local area.