English 200 celebrates student writing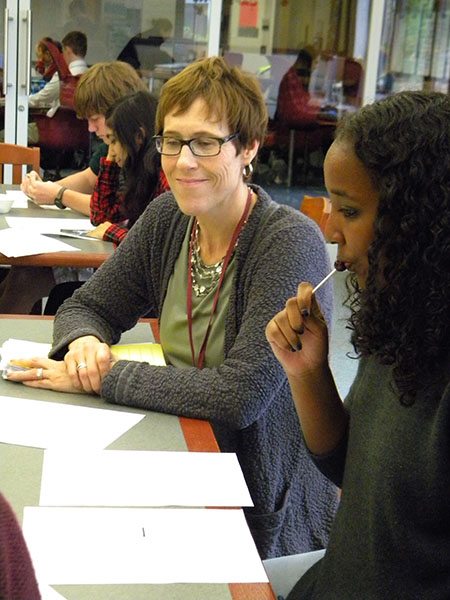 Sophomore English classes mixed it up by starting this year with a Writer's Workshop Unit. Teachers worked over the summer to develop a series of lessons to help pilot this new unit.  
"I worked with a team of English teachers this past summer as they were developing goals for their curriculum units. As the former Director of Literacy in Farmington, I have been deeply involved and interested in the teaching of reading and writing for many years. The Writer's Workshop Model reflects all of the principles in Farmington's Framework for Teaching and Learning," Assistant Superintendent Kimberly Wynne said.
Both teachers and students participated in the writing during this unit. Teachers played the role of both coach and writer, keeping their own journal during the unit.
"I learned that I can learn a lot from my students and their writing. I was constantly seeing powerful sentences and neat writing strategies that I wanted to try on my own," English teacher Katie Buckley said.
Each class typically started with a mini-lesson, teaching different writing techniques and revision strategies. From there, students had the chance to apply the skill.
"Having our teachers write side by side with us really helped us envision what our writing could look like, in terms of writing techniques. It also was helpful to go through the process of peer-editing since it was a new experience," sophomore Meg Sanders said.
From small group work, to peer conferences, students needed to be self-driven in this unit. It concluded with a final production of their personal narratives, which were featured in an all-day workshop in the library where teachers and students could read final drafts.
"I liked that students had their own choice to write what they wanted to write, and they were encouraged to reach within themselves and express themselves with their writing," literacy specialist Jill Pilon said.
The celebration was a way to see the how much they had truly achieved through the unit and their writing. Sophomore Kate Gregory felt she grew as a writer from the experience, especially getting the opportunity to read others' stories.
"I liked to read others' stories. It was really beneficial to see what others wrote about," Gregory said.
Gregory hopes that future English classes will hold a similar celebration.