SpiriThon raises over $5,200 for Connecticut Children's Medical Center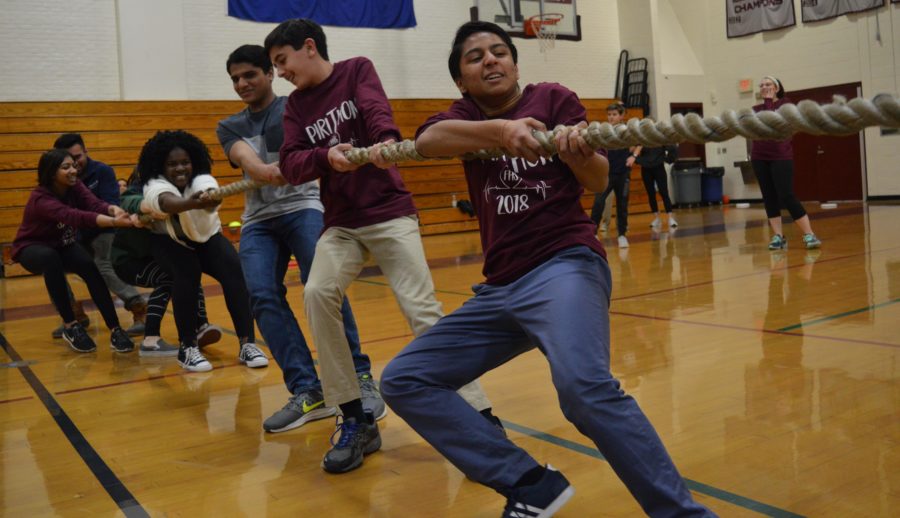 Pei Yi Zhuo, Broadcast Coordinator
February 5, 2018
The high school hosted the third annual SpiriThon on February 2. The event capped off a months-long fundraising effort for the Connecticut Children's Medical Center (CCMC). This year's SpiriThon saw an increase in student attendance from the previous year, with 55 students present at the 2018 event compared with 35 in 2017.
About 35 additional guests were also present including Miss Connecticut pageant contestants, students from the University of Connecticut (UConn), as well as high school faculty members and their children. Sophomore Sophie Giuffria and senior Maggie McGuire were the two most prolific fundraisers, managing to collect over $500 each. Giuffria and McGuire also secured the sponsorship of the Rotary Club of Farmington.
In addition, Tea Leaf Realty sponsored the event. Giuffria's father, Rob Giuffria, owns the latter. This is the first year these organizations have supported SpiriThon. The event lasted from 5:00 p.m. to 10:00 p.m. in the cafeteria and the New Gym.
The agenda included a basketball knockout tournament, a Kahoot trivia contest, tug of war, dodgeball, and a neon dance with glow sticks.
Faculty members as well as area restaurants, including Naples, George's, People's Choice, Dunkin' Donuts, Starbucks, Sergio's Pizza, and Firehouse Subs donated food and drinks. The event also included a raffle where winners received gift cards from 99 Restaurant, Dunkin' Donuts, Bartaco, Olive Garden, 4 Eat&Drink, and Chili's.
"I love how it was a mixture of so many different activities, but also a meaningful opportunity to speak to a kid that suffers from disease," senior Ally Dolmanisth said.
At the beginning of the event, Stephanie Devito, mother of seven year old CCMC patient Joey Devito, described her son's illness and the care he receives at CCMC.
"Joey's been going to CCMC since he was two months old. He has a host of rare autoimmune disorders. His body creates an overreaction. He ends up having a life threatening episode similar to an anaphylaxis," Devito said.
Regular treatment at CCMC every three weeks helps to manage her son's Condition.
"This year's SpiriThon definitely impacted me because Joey, the same patient who came to the event last year, attended this year's event. We could truly see the impact we have been making on his life over the past couple of years," Sophie Giuffria said.
The money raised through SpiriThon will go towards the procurement of medical necessities, improving the quality of care that CCMC patients receive.
"I was motivated to help the children battling life threatening diseases at CCMC. I wanted to help the children in any way possible, no matter how small, recover and receive adequate treatment at CCMC," sophomore Sia Goel said.
SpiriThon's first incarnation was the Dance-a-THON in the 2015-2016 school year. Social studies teacher Patrick Mulcahy started the event. He attended Uconn where students organize a yearly fundraiser for CCMC called HuskyTHON. In February, they put on an 18-hour dance marathon and announce the total raised.
"Honestly, I think hosting these events is something that every school should do," Mulcahy said.
Mulcahy and math teacher Patrick Skerker advise the SpiriThon Club which organized this year's event. The club has five different committees and club members planned activities, called restaurants, and helped to publicize the event.
"When you join Spirithon, you become part of a family. The values of charity, kindness, and collaboration are always present when you attend any of our club meetings," junior Kieran Mangla said.
Overall, this year's SpiriThon has left a positive impression on the social studies teacher.
"It always brings me joy to see students so deeply engaged and invested in doing good for the world. The students who participate in SpiriThon are some of the best in our school, and they understand the idea of supporting the community around them," Mulcahy said.