Garbart and seniors reflect as 2017 season ends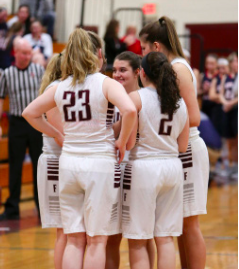 After falling to Guilford in the second round of the state tournament on March 2, Keith Garbart finalized his first season as the new varsity head coach for girls' basketball and the program said goodbye to five senior players: Erica Szydlik, Julia Borgida, Tara O'Coin, Amanda James, and Mary Schoenherr.
"I thought being a part of the program in the past really helped in the transition to head coach, and the connections I had made with returning players was extremely helpful," Garbart said. Garbart was previously the junior varsity coach, allowing him to build relationships with some of his players.
"It was really helpful to have someone who already knew our strengths and weaknesses as players and to have someone who was confident in us not just players but also as leaders," Borgida said. According to each of the seniors, the girls' basketball program not only teaches basketball skills but valuable life skills as well. Throughout all four years, each individual player learns from one another and their coaches.
"I have really learned to never give up. There have been some days where I just want to give up and stop playing because I wasn't getting something right or I was just too tired. The coaches would talk to us telling us everyday that if we wanted to be the best player we can be, we couldn't stop trying. Going through that helped me to see how important it is to never [give up]," Szydlik said.
Friendships formed between players throughout the season were carried on throughout the season on and of the court.
"My favorite part of the program has been all of the new friends I have made. We are still friends as basketball ends and I am so happy to have become closer with many people," James said. Schoenherr believes that basketball program has shaped her as both an athlete and as an individual.
"From freshman to senior year, Farmington basketball has shaped how I play the game and guided me to becoming a leader on and off the court.
For five consecutive years the girls basketball program has clinched the CCC White Division title, it feels amazing to be a part of that success for four of the five years," Schoenherr said.