Students talk about school culture in focus groups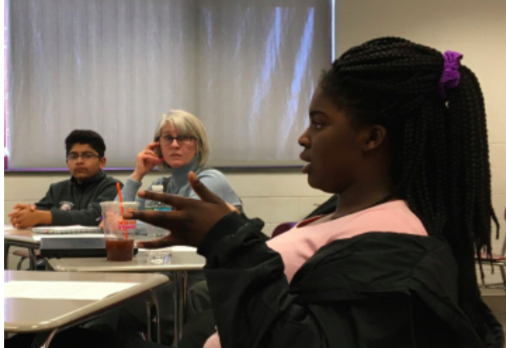 Alex Appel, Broadcast Coordinator
April 1, 2017
In the wake of Social Justice week, the Unity Club hosted a focus group on March 22, after school in room 909 in which nine students discussed ways to improve school culture.
"We're trying to have people recognize how fortunate they are to be in such a great school and to work with other students and to have this collaborative environment which we do and to really make the most of it. I really do think that most people tend to not interact with other people… That's not something we can really stand to have at a school that tries to lead the way in a lot of different things," Unity Club advisor Patrick Mulcahy said.
Each person was given a list of predetermined questions to guide the focus of the discussion, while conversation was facilitated by Unity Club Co-President, junior Maggie McGuire.
"There's just so many things that can determine the experiences you have: interactions, different teachers…Sharing those personal experiences will really be beneficial to other students in opening their eyes to things they haven't noticed before," McGuire said.
This setting allowed students to share their own views on the school culture in a relatively private area among students with diverse perspectives.
"A lot of people can feel uncomfortable talking in front of a large group of people so I think it will be more effective to have smaller groups of people where people can share and elaborate on their opinions and ideas," McGuire said.
These conversations were not only attended by members of Unity Club in attendance, but school counselors Chris Loomis and Kimberly Hudock were present and took notes on the discussions as well. From there, both Unity Club members and school counselors compiled a list of common themes that came up during different conversations. The issues that arose gave direction to both the club and the school as to where to focus their efforts next in order to improve the school environment. 
"Just the couple of us that came today, if we can take away the meaning of the meeting… our job … is to spread it and share it because we recognize stuff and not every person sees it," freshman Carly Trider said.
Issues discussed include the formation of "cliques" or closed-off social groups and the causes of ignorance, racism and homophobia. Even if every problem cannot be fixed, members of Unity Club feel that it is important for these issues be discussed.
"I hope that people will certainly learn from everything that happens and what all the speakers talk about," freshman Luis Baez.
The Unity Club is open to all students who would like to help in building a more diverse school community. If anyone would like to join, contact Mulcahy for information.