Student Exchange Event brings youth together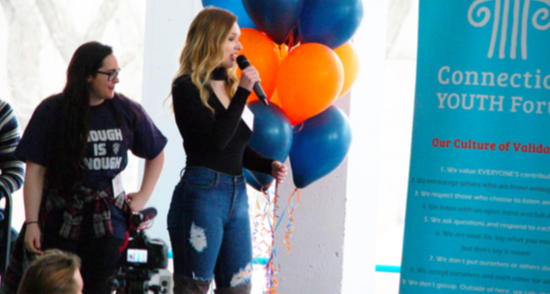 The University of Hart- ford hosted the twenty-third annual Student Exchange Event on March 21. Students from high schools across Connecticut came together to discuss a variety of topics through- out the 11-hour event.
"Students participate in workshops and breakout discussions on the University of Hartford campus. ere are celebrations, a talent show, a dance and other fun things to mix up the 11-hour day. It is a great bonding experience for students from a host of different schools and back- grounds," social studies teacher Patrick Mulcahy said.
In order to participate in the event, students had to first sign up for the Connecticut Youth Forum and then register for the Student Exchange Event when the registration came out.
The student exchange event focused on one topic, however it was up to each individual group to decide how that topic would be discussed, as well as making sure that everyone was able to voice their opinions.
"This year's theme was 'Enough is Enough,' and in small and large groups we discussed what we have had enough of, whether
it be of a political nature, personal nature or societal nature," sophomore Bryce Cullen said.
One of the main goals of the Student Exchange Event was to create a judgement-free zone where everyone felt comfortable speaking their mind.
"As someone who's shy, I liked the idea of a judgement-free zone where we could share our opinions," sophomore Kevin Krupa said.
Te event was brought to the high school last year by Cullen, and it is run through a program called the Connecticut Youth Forum. The Youth Forum hosts different events where students from all across Connecticut can come together to discuss big topics with one another, but Student Exchange is their most popular.
According to Cullen and Krupa, the event is not only their favorite event of the year, but the favorite of many other students who participate.
"I've loved the student exchange for both years; it's amazing. The only thing I could [want] is to make it twice a year," Krupa said.
Participation in the Connecticut Youth Forum is encouraged, and students who have participated in the past encourage their peers to join.
"I encourage others to join the Connecticut Youth Forum. It is a lot of fun, and the Student Exchange Event is always my favorite event of the year," Cullen said.
Junior Maggie McGuire also encourages others to participate in the Connecticut Youth Forum and Student Exchange Event, as it is an opportunity to discuss topics and meet new people from around the state.
"I encourage my class- mates to expand their horizons and talk to students of other towns who have had different experiences than them. You will meet a bunch of great, accepting people and build long-last- ing friendships if you are involved with this organization," McGuire said.