Spanish students visit New York City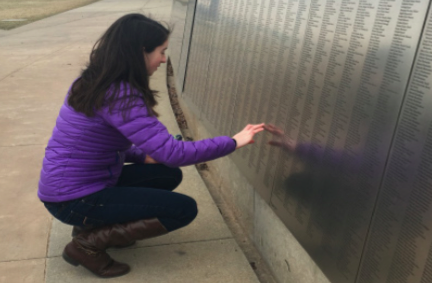 Students in the Spanish V Honors and Spanish V classes had the opportunity to visit New York City on March 24 through an educational eld trip that connected to the immigration unit within the classes.
"The purpose of the eld trip is for students to better understand that the United States is a 'melting pot' of immigrants from all over the world. With illegal immigration being at the forefront of the Trump Administration, it is important for students to under- stand why people would come to the United States in the first place. is trip parallels a unit on illegal immigration in both the Spanish V and V [Honors] classes where students view and analyze the lm El Norte," Spanish teacher Thomas McGinnis said.
According to Spanish teacher Solmarie Gonzalez, the Statue of Liberty and the Ellis Island Immigration Museum were the locations selected to be visited because of the immigration unit and how they can educate students on the journey of an immigrant. Junior Sasha Goldblatt found that the prospect of visiting the Statue of Liberty attracted them to taking the trip.
"The Statue of Liberty is an icon of freedom and was what many immigrants, including the 12 million which came to Ellis Island in the late nineteenth century until the middle of the twentieth century, first saw as they arrived to the states," Goldblatt said.
Students began the field trip by leaving the high school at 6:00 a.m., first visiting the Statue of Liberty at Liberty Island. The group then took a ferry to Ellis Island to see the Ellis Island Im- migration Museum.
After having lunch at Chelsea Market, students returned to the high school at 7:15 p.m., ending their experience in New York City.
Reflecting on the trip, junior Mark Kang found that the students that went on the trip learned a great deal about immigration and its role in society.
"The field trip to Ellis Island provided our classes with insight on how life was back in the twentieth century. Its role in society determines the demographics of the United States and provides a backbone structure in the diversity of our nation," Kang said.
This was the first year that students in Spanish V and V Honors were able to take the eld trip. Junior Katia Battistoni recommends other students to take the trip if possible because it allows students to discover New York City in an educational manner, while junior Lorenzo Battistoni recommends taking the trip because of its possible benefits in learning about immigration.