Teachers chart out new paths
As another class of seniors are about to graduate and move on from high school, so is another class of teachers who were dedicated to providing the best quality education while creating friendships along the way. Some of these teachers are retiring while others are moving onto new opportunities. English teacher Debra Jeffers and social studies teacher and activities director Carl Johnson will move on to alternative positions in education; construction teacher Richard Mulcunry, science teacher Vincent Tokarz, special services paraprofessional Kathy Hancock and math teacher Bob Thomas will retire from the teaching profession.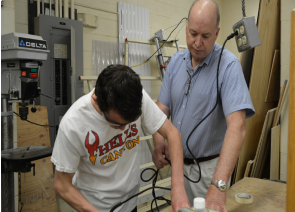 Construction teacher Richard Mulcunry: Mulcunry began working at the high school since 1981 but decided in November that this would be his final year. During his time here he has taught a range of courses: Comprehensive Technology, Graphic Arts,Welding, Trade Graphics,Drafting, CADD Drafting, Construction I, Construction II, Intro to Woods, Cabinetmaking, Designing Minds, Scientific Principles of Technology and the WISE program.
"Mr. Mulcunry made learning the trades of construction fun, but he also made sure that we were doing things right. His big idea was the he wants to teach us as much as possible so we know how to do it in the future," junior Tanner Muszynski said.
Mulcunry's classes and himself have been building sets for the school plays and musical the last fourteen years, he got FHS involved with the Rebuild Hartford Together program and has been the advisor for the Habitat for Humanity Campus Chapter at the high school.
"Mr. Mulcunry is one of my favorite teachers. I love how he is always making sure that our work and craftsmanship is to the best of our abilities while also telling funny jokes that make the class fun. He is a great teacher that everybody loves," junior Marshall Fillian said.
Mulcunry plans on running his personal residential construction company full-time, spending more time with his family at his vacation home in Cape Cod, volunteering with Habitat for Humanity and Rebuild Hartford Together, and travel.
"I will miss working with the students and having the opportunity to see them grow as learners and people. I am very proud that one of my former students, Kyle Bridgewater, will be replacing me in the fall," Mulcunry said.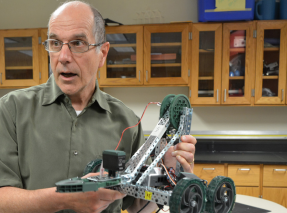 Science teacher Vincent Tokarz: Tokarz began teaching at the high school in the 1997 and decided that he would be retiring after this year at the end of last year. Originally, he began with a half-time position that transitioned to teaching full-time.
Tokarz has taught Physics, Scientific Principles of Technology, Intro to Engineering Design, Principles of Engineering, Portfolio Science, and Physical Science. He has served as the class co-advisor to the Class of 2002 and 2007, a robotics coach, co-advisor to National Honors Society and worked Science Olympiad as well as Rebuild Hartford for years.
Tokarz looks forward to renovating parts of his home, get certified as an Emergency Medical Technician (EMT), help the local food bank, hiking many trails in the Northeast, and learn a foreign language among many others.
"Mr. Tokarz' passion for his subjects and the enthusiasm which he brought to every class differentiated him from everyone else. I am glad that as a retired teacher Mr. Tokarz will finally get to take a break and become active in many activities he enjoys doing," senior Alex Wuschner said.
In addition, Tokarz guided students through their projects and was always available.
"He always had positive energy and was a great guy which made me like him so much as a teacher. He was always very helpful whenever I was confused and needed help with something. When I was down he was always there for me," senior Pasquale Caruso said.
Tokarz has emphasized, however, how much he will really miss being a part of the community as a teacher in the district.
"I will definitely miss the lasting friendships I've made with colleagues and students and the enthusiasm, optimism, and humor that so many students have brought into my life. My students have been part of my life-blood that has sustained me for such a long time. I will truly miss that," Tokarz said.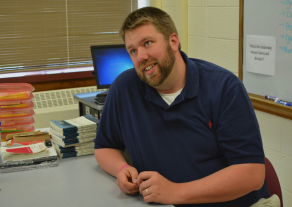 Social Students teacher Carl Johnson: Johnson also began working at the high school in 2004 and just finished his degree in Educational Administration from the University of Connecticut in May of 2015. Recently, Johnson accepted the Assistant Principal position at Plainville High School after four rounds of interviews.
Johnson looks forward in using his knowledge and expertise at his new position in order to institute beneficial changes that have occurred at the high school to Plainville, a school where strong culture and climate has already been established.
"FHS has provided me a wealth of opportunities, experiences and professional growth that will be invaluable to me. My work as Student Activities Director has given me a chance to coordinate whole school work instead of just an individual classroom. FHS is really on the cutting edge of a lot of educational changes, and it will be great to share those experiences and the knowledge that I have gained," Johnson said.
This year, Johnson worked with all students enrolled in AP United States History (APUSH) as he led the seminar discussions which was part of a new structure for the class. Despite the fact that he worked with several students, he made personal connections with many.
"Mr. Johnson is one of the most lighthearted teachers in the building, making it very fun and exciting to be a student of his," junior Alok Murthy said.
Prior to the change in the APUSH course set up, Johnson was also one of the teachers of the course before moving to being in charge of seminar sessions this year; however, his impact still remains the same.
"He was always very interactive with the students. He made [APUSH] very fun and made it very easy for everyone to participate because of the class environment," senior Nate Koziol said.
Johnson added that he will miss all the friends and colleagues that were there for him during some of the biggest moments in his life: marriage, the birth of his children, the loss of his father, among other significant events. His colleagues will miss him as well.
"Mr. Johnson is one of the most genuine people you'll ever meet. He has amazing intellectual capacity and emotional intelligence where he knows how to read people and knows what to say to people. He's a fantastic historian; I've learned a lot by working with him," social studies teacher Jefferson Gawle said.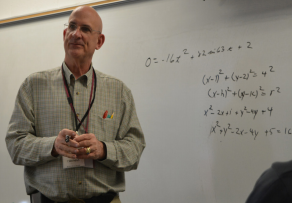 Math teacher Bob Thomas: Thomas has been at the high school since 2001 after earning his degree while in the military. While Thomas is not a Vietnam veteran, he is considered a Vietnam Era veteran, having trained during the time of the Vietnam War.
Thomas entered the Military Academy at West Point voluntarily in 1969 and graduated in 1973. According to Thomas, he did his observation and student teaching here which led to him applying for a position.
"I fell in love with the place so I felt it was a great fit for me," Thomas said.
During his time at the high school, Thomas has been heavily involved in student life. Aside from teaching several courses, he was the first to start the Engineering Project Lead the Way program. He has been the class advisor twice for the Class of 2009 and Class of 2015.
Thomas also began the Military History Club with retired social studies teacher Farrel Vogelhut. He also has been the co-advisor, alongside World Language Department Leader Jeri Chamberlain, for National Honors Society for nine or ten years.
"The thing that impresses me most about him is that he is always a gentleman and so easy to work with. I can also see how much he loves working with FHS students and how much they love him. He's had so much experience with NHS that he can answer any question that arises. I don't know how I can ever fill his shoes," Chamberlain said.
The decision to retire was not easy as Thomas intrinsically enjoys what he does.
"I just love waking up and coming to work and it's difficult to find a job that you can say that about. I've been very fortunate because I can say that about two of my careers. The military and teaching are very different but are also very similar in certain respects," Thomas said.
Working with students and faculty and staff have helped him fall in love with his career.
"I love kids so much. I've had three of my own. I've always worked with youth especially the young adults in the military. I love everyone here including the teachers. I love the Math Department. We've consistently had a very professional, genuine group," Thomas said.
His dedication did not go unnoticed by his students.
"Mr. Thomas will always be a teacher that I remember. He has always been there for me and has given me a lot of confidence in math. Overall, he was just a great teacher who had a lot of fun ways to teach," junior Haik Semerjian.
While Thomas is retiring this year, he anticipates returning next year as a long-term substitute for math teacher Jackie Broomall, who will be taking maternity leave. Aside from this, he looks forward to traveling and meeting his first granddaughter in August.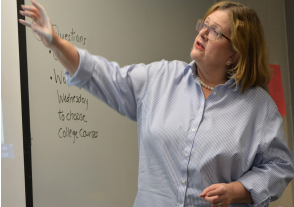 English teacher Debra Jeffers: Jeffers began teaching at FHS in 2004 but the decision to move was made last summer when her husband accepted a new position in West Palm Beach, Florida.
"I will really miss the way she forms relationships with all the students. She is a teacher primarily but she is also a great friend which really makes her stand out as a great teacher," senior Sam Roy said.
Prior to working at the high school, Jeffers worked at Somers High School alongside English teacher Susan Holcombe and then at E.O. Smith High School. Before that, she was public relations and development executive in non-profit healthcare. At the high school, Jeffers taught several courses while advising activities from the literary magazine to the Fly Fishing Club. She has chaperoned many events and served on a variety of professional committees.
However, her biggest honor was being the graduation speaker for the Class of 2015.
"It's always a privilege because one is asked by the students and really nothing more needs to be said. It's really a thrill to know really that the last teacher voice they wish to hear is yours. What an incredible honor that is," Jeffers said.
Students also felt privileged to have Jeffers speak at their graduation.
"Jeffers was more than just a teacher. She was an open-hearted companion to everyone she came across. I remember being so proud that she could represent our class at graduation. Her graduation speech was so passionate and meaningful that I actually cried. I'm sure she will not only be missed but also remembered as one of FHS' best teachers in its history," 2015 alumna Alicia Anachasian said.
Fellow teachers also recognize Jeffers' strong dedication and ability to form relationships with students.
"Besides her incredible depth of knowledge and passion for her field, the thing I admire most about Deb is her ability to make every student feel special and valued. She is a tremendous teacher, colleague and friend, and I will miss her terribly. I wish her all the best on her new adventure," English teacher Melissa Lukanik said.
Jeffers intended on retiring from the high school within the next seven years or so, but with her husband's unanticipated job offer in Florida, she will now be considering job offers in the West Palm Beach area from high schools and community colleges.
"I have been privileged to work with and learn from some of the best teachers in the business. I am very grateful and I will miss them dearly. FHS has become a second home to me and I will miss most the students and families whom I have come to know so well," Jeffers said.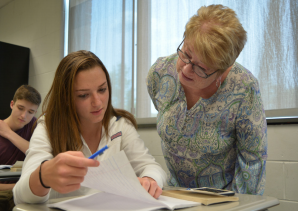 Paraprofessional Kathy Hancock:
Hancock began working in the district 14 years ago. In her time, she has worked at Union School, West Woods Upper Elementary School, Irving A. Robbins Middle School and has worked at the high school for the past 12 years. As a paraprofessional, Hancock works in the Learning Center assisting students with their work.
"I have been fortunate to go into classrooms as adult support for kids who work out in the Learning Center, but I introduce myself to everybody in a class and work with anyone who needs help. After the year is done, if even just one kid says thank you or one child gives me a smile, it's all worth it," Hancock said.
While primarily working with the English department, Hancock has worked in several different classrooms with a large group of teachers who have benefitted from having her support.
Despite not knowing every discipline, her positive approach helps her in supporting students.
"Mrs. H is a kind, compassionate, and helpful person. Students who work with her are lucky in that she is there for help with academics and also when they are just having a tough day or moment. She supports students in so many ways," Special Education Department Leader Margaret Mayr.
As a Farmington grad, Hancock likes to see the way the school has evolved over the years. According to Hancock, however, this became part of her decision to retire.
"With the way technology has advanced, I'm not a technological person; it's different from when I first started. So I thought it's time for me to move on and for someone else to take the job," Hancock said.
Despite the difficulties with technology, Hancock has found ways to still support students and set them up for success. Junior Matt Domejczyk had the opportunity to work with Hancock in his American Literature classroom this year and will miss the support she had given him on his work.
"Ever since I started working with her, I noticed that she is a great teacher, and I'm going to be missing her a lot next year since she's leaving," Domejczyk said.
Hancock plans to work for the high school as a volunteer once a week. Therefore, according to Hancock, "it's not a goodbye, it's an 'I'll be back'."