New leadership named for Student Council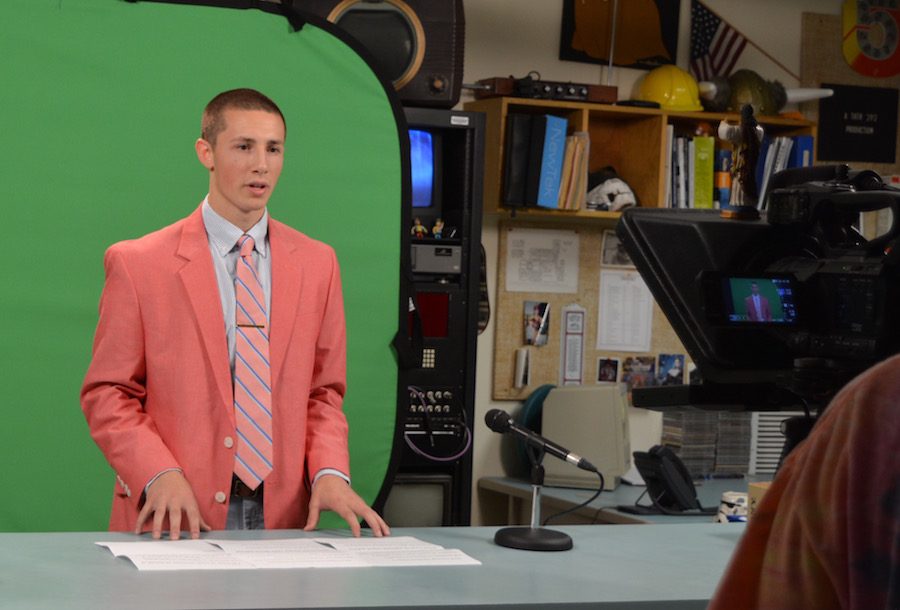 Bella Podgorski, Photography Editor
May 27, 2016
With the conclusion of student voting at 2:00 p.m. last Friday, May 27, student council positions were fulfilled for the 2016-2017 school year. The voting ended an election cycle that saw more campaigning than in recent years.
On election day, those running for Executive Council delivered their speeches live over the 9:05 News before classes broke away for class speeches.
Freshman Dayna Deakin, newly-elected secretary for the Class of 2019, suggested the importance of preparation before campaigning.
"Something that is important to do before running is to make sure people know what you are running for and what you plan to contribute to the council. Once your peers know this, they will feel more comfortable to vote for you," Deakin said.
This year saw an uptick in candidates, especially for underclassman positions. In both the classes of 2018 and 2019, nearly two dozen candidates vied for the eight positions available. This was evident in the vigor of campaigns; in the final days before the election, the school was studded with posters backing candidates from freshman president to Executive Treasurer.
In the face of a bumper crop of competitors, candidates went to lengths to differentiate themselves from other candidates. A common theme in student speeches was a promise to make the school "great"; others attacked what they saw as unproductivity among current councils.
Other candidates, especially those who already held a position and were seeking re-election, countered the claims of unproductivity with what they saw as their achievements. Class of 2018 President-elect Jocelyn Bohlman was one such candidate.
"Now, I'd just like to put this out there… It's this idea that, quote, 'Student Council does nothing'… Getting things done on Student Council, it's not easy, but it's totally doable. I say this because I know what it's like to work around these barriers," Bohlman said in her campaign speech.
Given the number of candidates for each position and the different viewpoints they espoused, there was some indecision on the part of students as to who to support. In choosing which candidates to support, Student Activities Director and Student Council iCarl Johnson offered that students had ought to support candidates who are dependable, self-motivated, empathetic and capable of balancing multiple responsibilities.
Before voting, Johnson encouraged students to consider who would be the best fit for each position.
"I think you should really think about who you trust as a leader. Who do you think is doing this for the right reasons and wants to make their class and school a better place? Who do you trust will be a voice for your class and student body?" Johnson said.
This will be Johnson's last year as adviser of Student Council, as he has accepted a job as Assistant Principal at Plainville High School.
English teacher Russ Crist will take over the position of Student Activities Director, making him the new Student Council adviser.
"I am very excited to start my new position as Student Activities Director. The position will allow me to expand upon one of my greatest strengths, my connection to the students of FHS. Mr. Johnson will be missed at FHS and he leaves me with big shoes to fill at the position, but moving forward I hope to continue the great relationship and success that he has had with the student council," Crist said.
With the adviser transition, there some anxiety has been voiced around the future of the council. In his speech for the Class of 2017 presidency, newly-elected President of the Class of 2017 junior Allen Haugh acknowledged the potential for instability and assuring his class that under his presidency, they will have a successful last year.
"I'm running for Class President to make sure that no matter what happens on the Executive Council, that no matter what challenges we face, with or without Mr. Johnson, that we as the Class of 2017 will have a productive and a sane council that does its job and that makes our final year one to remember," Haugh said in his speech.
After all student votes were tabulated, junior Kevin Dunst was elected as the Executive President for the 2016-2017 school year. According to Dunst, he is excited about being elected. He emphasized the importance of building relationships.
"I believe that I won because I was able to develop more meaningful connections with more students over the past year, and those connections led to increased confidence of the student body that I would be a capable candidate that would represent the school in the best way possible," Dunst said.
As the Student Council looks to take charge in the upcoming school year, Spanish teacher and Class of 2017 adviser Colleen Crowe believes leadership roles within the council are important to better serve the school and community.
"A Student Council position is much more than just a title, so it is important that the students running can follow through and get the job done, even when a task is difficult," Crowe said.
Dunst looks to next year as an opportunity to integrate the school and community through serving as the Executive President.
"There are so many opportunities to become involved within our community and taking advantage of those opportunities would be great experiences for students, and it would help shape an even better image of our school," Dunst said.
Haugh also looks to develop a stronger sense of community through his presidency.
"As a student body, I'd like to see us keep focusing our efforts on promoting excellence and inclusion. We had ought to keep trying to bring our school community together and also celebrating our collective abilities and achievements. Farmington is by most measures a great school. Students should be feeling that; they should feel capable of stepping up," Haugh said.
Regardless of the plan or mission, Crist plans to support the students.
"I expect that Student Council will continue to serve their respective classes and the school to the best of their ability. I also hope to highlight and build upon the amazing charity and volunteer work that Student Council already does on a regular basis in our community," Crist said.