Students book groups for reading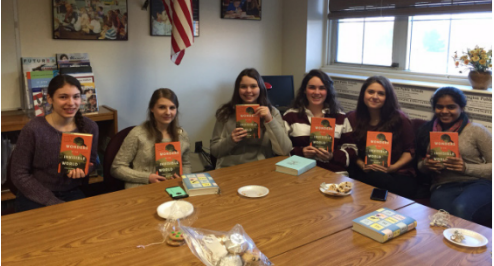 Bella Podgorski, Photography Editor
June 10, 2016
In conjunction with the recent cultivation of a school wide interest in reading, students and faculty members have been meeting in book groups to discuss novels with genres ranging from historical to science fiction and beyond.
Faculty, such as library media specialist Nancy Carlson and English teachers Jessica Tolles and Lauren Luciani, lead these groups. Currently there are two groups comprised mainly of students; one is a senior group and one is a freshman group.
A lack of interest in reading is often attributed to the busy schedules; however, these period-long book groups that meet on a rolling basis are meant to provide members with enough time to get to the suggested area in a novel. Students do not feel pressured to read a book that they may or may not like.
"The goal of book groups is to engage students in reading that's outside of the school realm [or] curriculum and to expose them to a variety of books, authors and genres. Also, reading is something that is fun and enjoyable, especially when given the opportunity to share your thinking and perceptions with peers and friends," Luciani said.
The freshman book group led by Luciani originally met in Irving A.Robbins Middle School and showed an interest in continuing into high school.
"I absolutely love books groups. I read in my free time, so reading a book with a group and sharing our opinions on it is always very interesting, especially when I hear opinions different from my own," freshman Anusha Patel said.
Carlson added how she is trying to infuse reading and the love for reading within high school students. In both freshman and senior book groups, they share their love for reading without being in a classroom setting. Several of the students who participate in the current senior group have been members since the start of their junior year. Despite heading off to college, the group plans to continue meeting when they come home on vacation.
"The group is great and growing. I feel like I'm not just a student really, but surrounded by friends that I don't have to address like teachers by raising my hand and coming up with some elaborate thesis to impress them," senior Shannon Connolly said.
When students are given the opportunity to discuss a book, without being graded or judged, a true enjoyment of reading and of sharing ideas are cultivated.
"Book groups remind people that reading is fun and that you can sit for a half hour and get lost in a book," Carlson said.