Star Wars: The Force Reawakens in theatres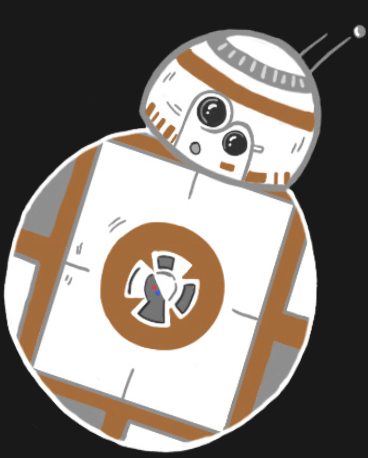 The most iconic saga in all of cinema set in a well-known galaxy far, far away, Star Wars, is back for the first time in 10 years. The newest film Star Wars: The Force Awakens was released in theaters this past December. This is the seventh installment to the franchise that started back in 1977, introducing new characters into its galaxy while bringing back a few familiar faces.
Original cast members Mark Hamill (Luke Skywalker), Carrie Fisher (Princess Leia), and Harrison Ford (Han Solo) reprised their roles in a film that has broken, and is still breaking, box office records, much like the first film in the saga.
1977 was the year that a low-budget science fiction film named Star Wars was released. The distributors of the film, Twentieth Century Fox, predicted the film was going to be a box office and critical bomb. Little did the distributors know, the film was going to change the world. Audiovisual Director Evan Foreman saw Star Wars during the first week of its release.
"My friends told me to see it because it was a lot of fun, but when I saw Star Wars, I had no idea what it was about because the distributors undersold it. To see the opening shot was unlike anything anybody had seen before. Then there was this ship chasing another ship while it's shooting, robots talking, and there was a guy in a black cape. Everyone in the theatre had their mouths dropped. It was thoroughly original," Foreman said.
Star Wars became the highest grossing movie of its time, as it went on to inspire two more blockbuster films while leaving its mark on.
Junior Roman Gusyev, described the excite culture when people began to say iconic phrases such as "May the force be with you," or "Do or do not; there is no try."
The film was also a first when it came to success through merchandise and expanded media coverage. Many spin-off TV shows, comic books, novels are still being released to this day.
"It's great that Star Wars has entered popular culture. It's important that people have something that they can bond over, whether that something be sports, music, or in this case, a whole universe of content that binds so many people from so many walks of life together to simply have fun," senior Jonathan Hammond said.
With the original Star Wars trilogy ending in 1983 with Star Wars: Return of the Jedi, fans thought that the franchise was done until 1999 when Star Wars Episode I: The Phantom Menace was released, starting a new prequel trilogy. The anticipation for The Phantom Menace was extremely high, though much of that anticipation was met with disappointment. All three of the Star Wars prequels hold a legacy of being some of the most disappointing films in movie history.
As that trilogy wrapped up, it had appeared that Star Wars was finally coming to an end. Then in 2012, it was confirmed that three more Star Wars sequels would be released, this time continuing where the story left off after 1983's Return of the Jedi. Star Wars: The Force Awakens has broken plenty of box office records and is currently the highest grossing film of all time in the U.S.,while pleasing the older and younger generations coming together to see the story unfold on the big screen. Many fans were excited to see their favorite characters, like Han Solo and Princess Leia, return for a new adventure. Junior Roman Gusyev, described the excitement when he went to see The Force Awakens.
"In the theaters, when they first showed the returning characters, the entire audience began clapping, which was pretty neat. The audience was in awe seeing their favorite characters in the original movies return for the first time in years," Gusyev said.
Growing up seeing the Star Wars films, math teacher Andrew DeSimone felt similarly to how Gusyev felt seeing their favorite Galaxy once again.
"There are no words to describe how I felt when I saw Han Solo and Chewbacca board the Millennium Falcon for the first time in over 30 years. It just felt right, as if everything was now right with the universe," DeSimone said.
With two more sequels and three spin-off films being released in the next five years, fans can expect to see plenty of the far-away galaxy they love, while hopefully staying entertained.