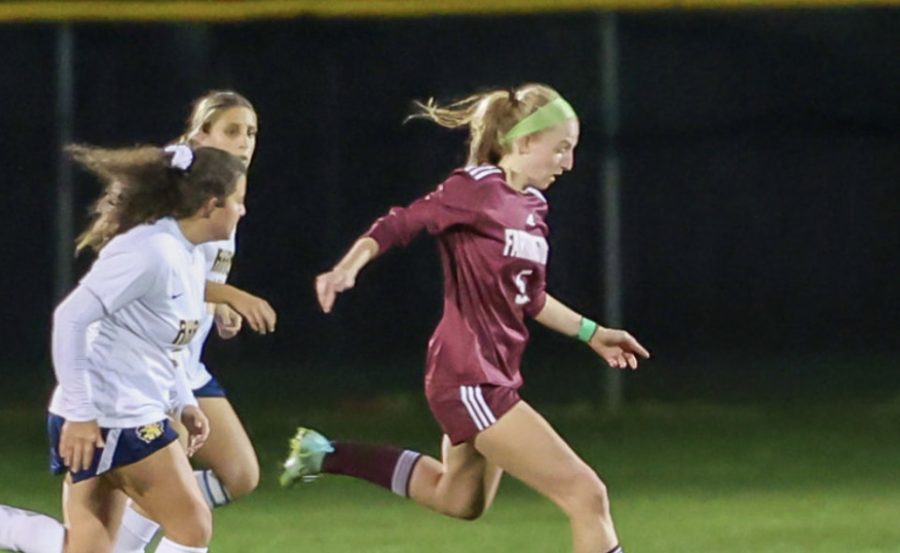 Joan Winner of Winner Photography LLC
From August to November, the River Hawk student athletes and coaches competed in games, meets, and tournaments during the Connecticut Interscholastic Athletic Conference (CIAC) fall sports season. The teams end the season with everything from state championships to lessons learned, but all with goals for next year. Here is a summary of each team's season, presented by the name of the sport in alphabetical order. 
Crew 
The boys and girls teams traveled throughout the state to compete in regattas as well as taking the trip to regattas in Massachusetts and New York. They also hosted regattas at the Tunxis Meade boathouse. The girl's 1 Varsity boat earned a New England Championship medal. 
"This is only my second season on  the crew team and it's been a great experience. The community at the boat house is like a family, although it is difficult it is also very rewarding. You get to see your results and progress every week, showing your effort," sophomore boy's rower Yogahari Jegadeeswaran said. 
Cross Country 
Both boys and girls cross country teams attended various meets and invitationals across the state  to run against other schools with runners constantly beating personal and school records and times. The team was especially proud of their performance against conference rivals Conard and Southington. 
"They have worked so hard, not just to get faster but to make this team a family. The impact of the runners we have this year is going to be felt for so many years to come and I honestly don't think they've realized it yet, which is so exciting as a coach to just be a part of," head coach Patrick Skerker said. 
Field hockey
After finishing the 2020 season with only 4 wins, this year's team flipped that record and finished the season with only 4 losses, ending the regular season with 10 wins, 4 losses, and 2 ties, qualifying for the Class L tournament but lost to Ridgefield. Many attribute the team's record to the senior class and new head coach Sadie Robinson. 
"Our appearance in the playoffs set a great path for next season. We ended the year with mental toughness and a desire to win and we will start next year with these same aspects. There is a bright future ahead for Farmington field hockey," junior Jen Austin said. 
Football
Playing in a regular season for the first time since the pandemic, the football team finished the season with 0 wins and 10 losses. However, the team looks to come back next year led by returning captains from this season, juniors Kevin Ives and Luke Watson, as well as new leadership. 
"Next year we're going to build off of what we started this year. Our team is really young so we hope to return next season and use the experience we got this year," Ives said. 
Golf
Boy's golf played their season in the fall for the first time in high school in the state. The team finished in the top five at the Central Connecticut Conference (CCC) match and junior Michael Guerrera shot 76, six over par, and placed in the top five for all players attending the match. 
"We had a great season, like all teams we have improvements that need to be made, but I feel like we have a lot of good players and we can perform very well," Guerrera said. 
Girls swim and dive 
The girl's swim and dive team finished the regular season with 8 wins and 1 loss. Additionally, freshmen Jenny Liu and Alexandra Urbanowicz, sophomore Jaee Raut, junior Kate Cosentino, and senior Gabriella Wrobleski competed at the state open championship meet, the highest level of competition for high school swimming. 
"It was a great opportunity to swim against the highest level of competition and face teams that we don't typically see in our regular season," Cosentino said. 
Boys soccer 
The team entered the postseason with 12 wins, 3 losses, and 1 tie and beat Southington, Fairfield Warde, Hall, and Staples to earn a spot in the final game. The boys beat Chesire in the Class LL state championship game, naming them state champions. 
"We're glad that the hard work and preparation paid off at the end of the season. We will definitely carry this momentum into future seasons," junior Kit Scudder said. 
Girls soccer
The team finished the regular season with 7 wins, 4 losses, and 5 ties. The girls made a postseason run, beating the top seed Amity in the second round of the playoffs, but lost in the quarterfinals to Staples in a 1-0 loss during double overtime. 
"We had a really good run in the playoffs this year, beating two impressive teams, Greenwich and the number one seed Amity. The goal for next season is to beat Staples and go just as far, if not further, in the playoffs," junior Hannah Sams said. 
Volleyball
Ending the fall with more wins than losses, the girl's volleyball team finished with a final record of 10 wins and 9 losses. Significant wins include 3-0 shutout wins against Platt, Wethersfield, Glastonbury, Northwest Catholic, New Britain, and Avon. 
"We had a lot of challenges with injuries and missing players, but we collectively learned to overcome these conflicts to form a team connection," sophomore Sarah Bertolette said.