Taylor Swift announces release of Red (Taylor's Version) on November 12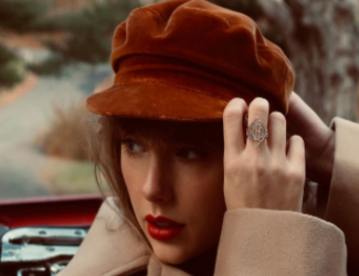 Taylor Swift confirmed that her album Red, originally released October 22, 2012, will be re-recorded and released on November 12.
Swift's former label sold her albums to Scooter Braun who later sold them to an investment group. She is passionate about artist's owning their own music and announced that she would re-record and put out her first six albums, along with additional unreleased songs. Red was originally set to be released on November 19, announced 22 weeks prior to the date set for the album to be put out. 22 is her age when originally released, the date it was originally released and one of her songs on the album, as well as on Braun's birthday.
Swift announced the song titles on the album with an Instagram post showing a series of jumbled song titles, phrases, and artist hints on a locked vault. Once at least one of her fans, called Swifties, had guessed the album correctly, the track was released. She teases her fans with release dates and adds specific, minimalistic details on Instagram, Twitter posts, Tik Toks, and music videos, allowing rumors and her hints to enhance and engage her audience. She uses an idea of "the vault" as a fictitious place that her unreleased songs are in. Swift is estimated to have over 100 unreleased songs that are currently in "the vault," from over the years when songs were not able to make it on to specific albums.
Her first re-recording of the six albums, Fearless (Taylor's Version), was released on April 9 there were six songs from the vault included. One of which being "Love Story (Taylor's Version)", about a month prior to the album's release, yet this time she released "Wildest Dreams (Taylor's Version)", originally from the album 1989, leaving many fans wondering whether or not 1989 (Taylor's Version) will be released instead of or before Red.
"Loving him was red, which means it was bold, it was crazy, it was out of control, it was passionate, it was important, to me the red emotions are the most powerful ones," Swift said in an interview on Siriusxm.
Swift's motivation for the majority of her music is her love life and emotional connections. She mentions that Red is her only true breakup album with her deepest emotions tied into it. This album represents both sides of her relationships, the most extreme love and passion; but on the other side of it there's jealousy, anger, and obsession. One very notable song was "All Too Well," which according to Swift was, "the hardest to write" because she had to filter through so many emotions and everything she wanted to put into the song. The song was originally 10 minutes long, but as Swift stated, "you can't put a 10 minute song on an album." Fortunately for many fans, the full version will be included in Red (Taylor's Version).
Other top hits include, "I Knew You Were Trouble.", "22", and "We Are Never Ever Getting Back Together." Red (Taylor's Version) can be streamed on all platforms on November 12.