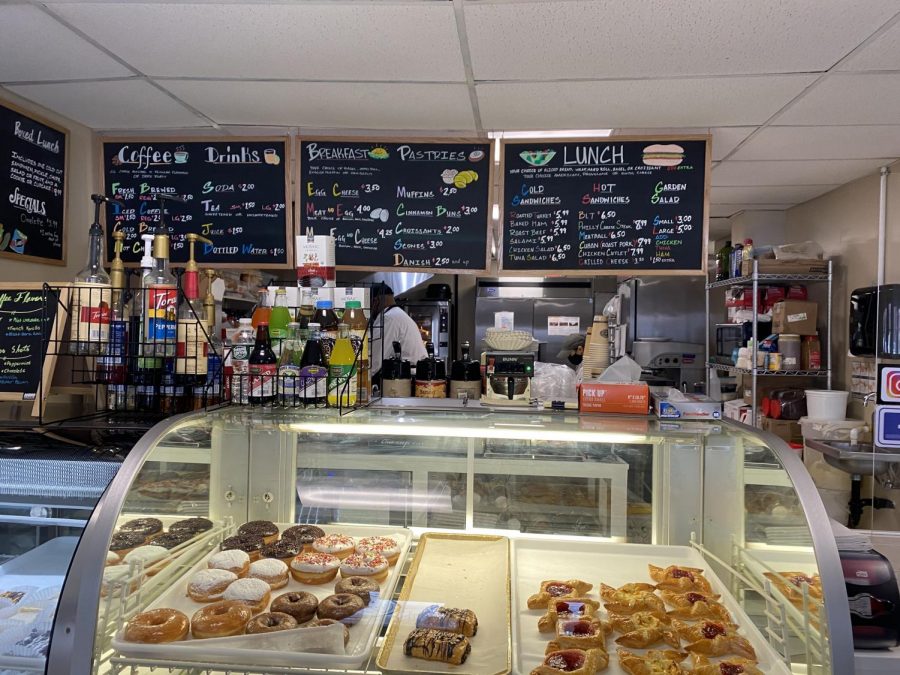 Sharon Olkovsky
Opening and maintaining a business during the COVID-19 pandemic has proven to be difficult for many, but this family owned cafe and bakery in East Hartford, CT has made it work. Rosa's Cafe and Bakery is a cute spot for breakfast and lunch and has a welcoming staff that makes your visit enjoyable.
Rosa's is a Latinx family owned restaurant that opened near the end of last year in honor of women in advanced stages of Alzheimer's disease. This restaurant offers various breakfast and lunch foods, and displayed near the register customers can find a large variety of desserts. The atmosphere of Rosa's is very welcoming and relaxing as the dining area is small and well-lit, aesthetic decor is distributed all throughout the restaurant, and there is an open view of the kitchen where you can see the hard-working chefs making your food. Among other pleasing aspects, the highlight of my visit at Rosa's was the extremely welcoming staff. The cooks in the back of the restaurant greeted every customer with a smile as they continued working on their cooking and the cashier gave my family and I a very personal experience as she maintained a very friendly tone and provided her menu recommendations.
Rosa's menu has many different sections including coffees, drinks, sides, breakfast, lunch, boxed lunch, salad, pastries, desserts, and breads. Inside the restaurant there is a small coffee bar where customers can customize their black coffee as they please, or they can order a coffee drink from the menu. The breakfast section of the menu offers various egg sandwiches, a breakfast burrito, or Rosa's Special breakfast. The lunch section offers hot sandwiches and a couple salad options. Additionally, you can order a boxed lunch in which you can select a cold cut sandwich of your choice, a side of your choice, and a cupcake or cookie. From the pastry and dessert section, customers can select from over 15 sweets including options like scones, donuts, cheese- cake, and cupcakes. I was able to try a baked lemon bar and was more than pleased with my choice.
In addition to their menu options, Rosa's has an option where customers can create a custom order for cakes, cupcakes, and/or cookies. For a custom cake you must select a cake flavor, type of filling, icing flavor, and size. Their custom cakes run at a large variety of sizes, ranging from two servings to 65. Custom orders are decorated by co-owner and trained cake decorator Stephanie. Custom cake and cupcake orders must be placed at least two days in advance and custom cookie orders must be placed at least five days in advance. To see their custom order options, order a custom cake/cupcake/cookie, or view their entire menu visit their stylish website at rosascafeandbakery.com
Accommodating the pandemic, Rosa's offers indoor seating at a limited amount to ensure social distancing and a low occupancy. All workers wear masks and gloves, plexiglass dividers are set up at the register and counters, and social distancing is encouraged throughout the restaurant, following all Centers of Disease Control and Prevention (CDC) guidelines. Additionally, Rosa's gives the option of curbside pickup through an online order or delivery through Grubhub or Doordash.
If you're looking for a nice sit-down restaurant Rosa's may not be the place for you, as it is small so really only a few tables can fit, but is a great place for a quick meal or food to-go. The food was served on paper plates and only bottled drinks were available, except for coffee and tea, which is all great for a casual meal. The pricing at Rosa's is extremely reasonable and affordable. For more information or updates check out their website or visit their account on Instagram at @rosas_cafe_ct.