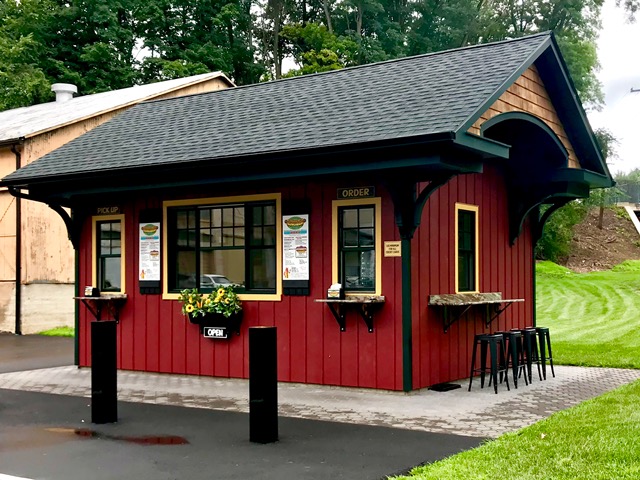 Courtesy of Carol's Lunchbox
Carol's Lunchbox is a small little shack that can be found off of route four, right alongside the bike path in Farmington, Connecticut. Although it just looks like a random small shack, it serves great food, specializing in hotdogs. You can find several different types of dogs on the menu, including a traditional dog, polish dog, and a german dog. You can also find delicious sides dishes such as Mac and Cheese, Baked Beans, and potato salad
Carol's is nothing fancy but it is not supposed to be. It is supposed to be a casual place to go to just enjoy a casual lunch. Carol's is perfect for the summer considering it is located right along the bike path. It is a perfect pit stop to make when biking. You can go enjoy a nice lunch, while not having to worry about getting dressed up or anything like that. You can just go casually order a hot dog, and you will be there for no longer than 10 minutes, if you want a quick stop along your ride. 
The service at Carol's is excellent. The food is served quickly, and all of the employees are always super friendly. When going to Carol's you will always feel welcomed there. There are a few tables next to the shack, and a little table set up right on the shack for you to eat. You will be covered from the sun with umbrellas, making it an enjoyable setting to eat your food. Although there is nothing crazy around it, you will be able to find peace with yourself when eating there. 
As far as the menu at Carol's, it is pretty much limited to hot dogs, with sides of Baked Beans, Potato Salad, Mac And Cheese, and potato chips. As much as Carol's lacks variety on the menu, it will fill you up, and fill the need of your hunger. Also it is not meant to have a variety of food options on the menu. That is why it is a hot dog stand. It is a small shack, so they also don't have the materials to expand their menu, and it really isn't necessary for them. The purpose of the stand is for it to give people a nice mid day snack as they go along with their day. Most of the time you come to Carol's, it will not be something planned from the day before. 
They do have a variety of hot dogs though, with the stand out being the Carol's All American Chili Cheese Dog. This is a delicious dog that is topped with chili meat sauce and the option to add melted cooper cheese or shredded sharp cheddar cheese for an extra 50 cents. You can also find a polish dog, which is a savory smoked kielbasa, a german dog, which is a plump and juicy bratwurst, and a hot diggity dog, which is a spicy hot sausage. Also if you are feeling traditional, you can just go for a plain old hot dog.   
Although Carol's Lunchbox may not look like much, just a small shack hidden off of route four in Farmington, it will provide you with a delicious lunch. It is nothing fancy, just casual hot dogs but they are some of the best in town and you will not be disappointed when checking it out.