Belleayre Ski Resort avalanche causes hardship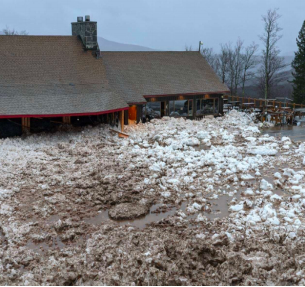 East Coast skiers and riders have been troubled over the past few weeks. Temperatures have been up, and that means the snowfall has been down. With a drop in temperatures comes every skier's worst nightmare: rain. This rain has been catastrophic to some resorts, including Belleayre Ski Area in New York, as this resort recently experienced a rare East Coast avalanche.
The avalanche was caused due to heavy rain and the temperatures increasing to over 60 degrees. This caused the snow to become very compact and solid, and eventually a large mass of snow tumbled into one of the main lodges at Belleayre.
The avalanche happened at 5:30 a.m. on a Friday morning. No one was hurt as the ski resort was due to be closed that day due to inclement weather. However, despite no one being hurt, there was a large amount of damage done to the interior of the lodge, as several inches of water eventually flooded the building.
"It was just the perfect combination for something like this to happen, and we've never seen this happen at any of our resorts. We were all just so thankful that nobody was in that building. It wasn't occupied but we were kind of making jokes about how it's a good way to slide into 2021. Ending the year with a snow slide, I mean, what else could happen?" Communications Manager at Belleayre Ski Area Elise Ruocco said.
The resort has been affected by COVID-19, limiting occupants as well as altering skiing routines. With an already altered year due to the virus, the avalanche caused an array of necessary changes. Skiing and snowboarding have been difficult this year due to weather conditions and COVID-19 protocols. The avalanche added stress, but Belleayre Ski Resort looks to rebound from the situation.