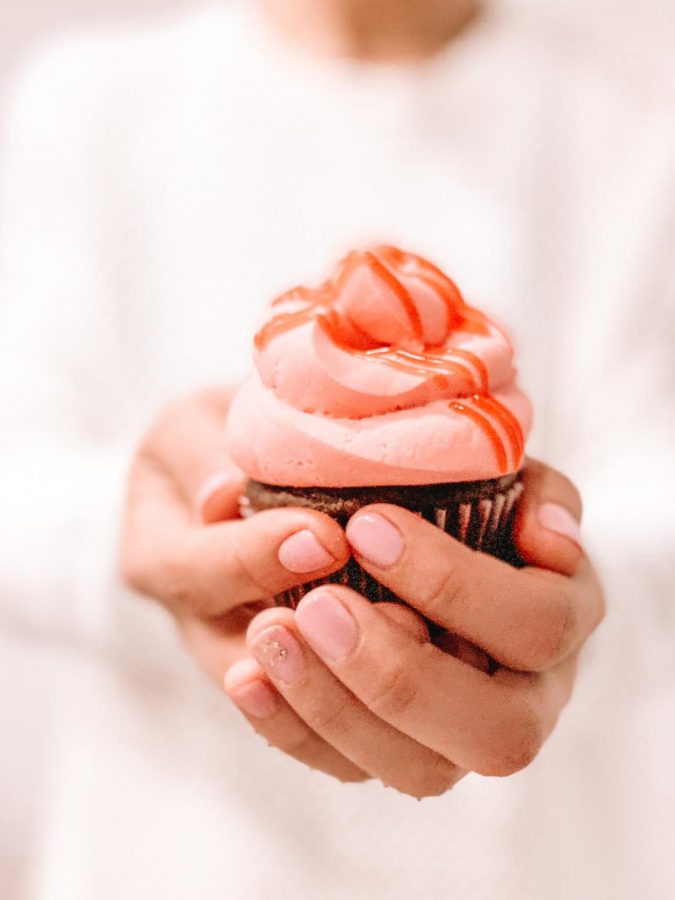 Courtesy of MJ Martinez
Chocolate cupcakes with strawberry frosting are just what you need this Valentine's Day. Hoosier Homemade Cupcakes are easy to make and delicious. Nothing beats the strawberry frosting; the glaze adds flavor and freshness. The best part of baking these cupcakes is the decorations; you can add countless treats on top.
This recipe was rated four out of five stars; the most popular reviews describe the dessert as "so cute," "delicious," "loved," and "can't wait to share this recipe." I recommend baking this sweet treat this holiday with friends, family, or someone special!
Ingredients: 
Cake Mix:
1 box of any cake mix of your choosing
1 cup Buttermilk (to make fresh, add one tablespoon vinegar to a one cup
measuring cup, then fill with milk, let sit for two to three minutes, and the milk
will begin to curdle).
1/3 cup oil – or the same amount of oil on the box
4 large eggs – room temperature
Combine all ingredients. Make sure the batter is smooth, and break up any
large pieces with a whisk.
Buttercream Frosting:
One cup (2 sticks) unsalted butter, softened
One cup (2 sticks) unsalted butter, softened
6-8 cups of powdered sugar
2-4 tablespoons milk
Combine the butter with the powdered sugar using a mixer and begin by adding one tablespoon of milk. Slowly add additional powder sugar or milk to get preferred consistency.
Homemade Strawberry Glaze:
1 pint fresh strawberries
1⁄3 cup white sugar
1 teaspoon vanilla
Wash strawberries, remove stems, and roughly chop. Combine strawberries, sugar, and vanilla in a saucepan. Stir occasionally over medium-heat. Continue stirring; mash a few strawberries with a wooden spoon to help release juice and syrup. It should take about 15 minutes for the sauce to thicken. Remove from the stove. In a blender, puree about a third of the sauce, then re- turn it back to the rest of the glaze. Place in the refrigerator to completely chill.
Afterward, assemble your cupcakes by generously frosting each one and garnishing with glaze and anything your heart desires!