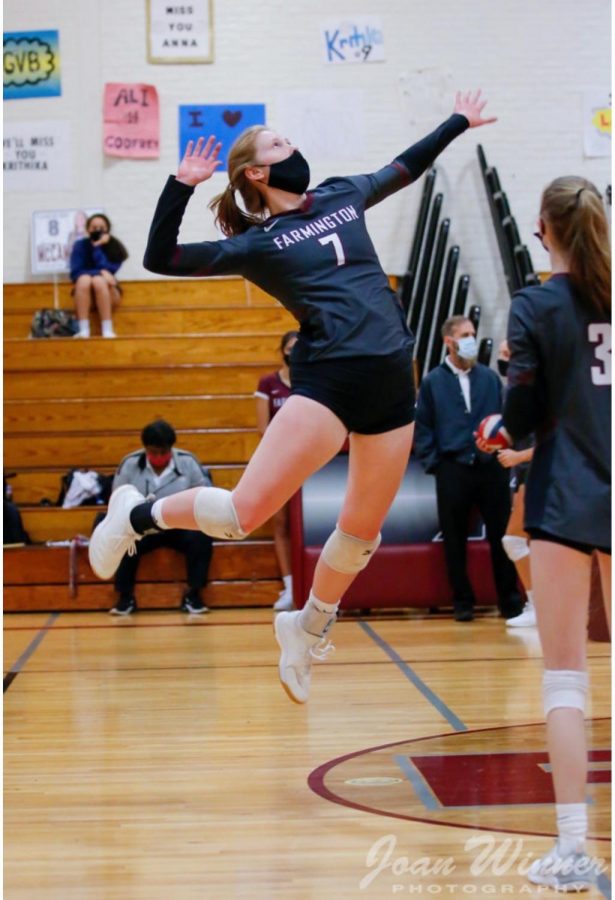 Courtesy of Joan Winner Photography, LLC
Girls Volleyball
Since volleyball is the only fall sport inside, it is categorized as "high risk" in terms of spreading the virus. This high risk label has come with more regulations, compared to other fall sports.
Senior athlete Ali Godfrey is excited to start the season, despite changes and regulations.
"We just want to enjoy every second we have playing together. I'm grateful we are able to play at all in my senior season especially," Godfrey said.
These new guidelines consist of athletes needing to wear a mask throughout practice and play at all times unless they are doing conditioning outdoors.In order to ensure safety and less contact, players and coaches take frequent breaks throughout practices and games to both sanitize the balls and their own hands before resuming play. Although there is no state tournament to aim for at the end of the season, players and coaches have hopes of a small, safe tournament instead.
Boys Soccer
The boys of the pitch had to do their best in adapting to the COVID-19 regulations. Preseason included a total elimination of competition against teams in other towns, a zero tolerance policy for contact during practice, and players were split into cohorts of 10 depending on what team they had been placed on.
Once contact in practice was permitted, the team returned to some normalcy. Players were no longer forced to play and practice within cohorts, and the junior varsity team was once again able to be incorporated into some of varsity's drills. However, just days before the opening kickoff, positive cases among members of the team prompted a cancellation of their first game of the year. Once their quarantine concluded, the team played their first game on Thursday, October 15. Despite all the relapses, the team's goal has been the same since before and through quarantine: a state championship.
The team has had an excellent start to their delayed season, posing an undefeated record. Pending COVID-19 guidelines, the state tournament is in the near future.
Girls Soccer
Like the boys, the girl's soccer team faced adversity this year in their fight against new conditions surrounding COVID-19.
The freshman program had been forced to get cut, expanding the numbers on both the junior varsity (JV) and varsity rosters. Players were split into cohorts of ten, while having to fill out a Google form everyday in an attempt to spot any symptoms of the virus. Once contact was finally allowed, cohorts merged despite the remaining constraint that JV and varsity teams must still practice separately.
Senior Samantha Vertefeuille is grateful to start the season with high energy both on the field and the sideline.
"The pandemic has caused many restrictions for soccer including that almost no fans are allowed at games. Although we would want to see the tribe like in previous years, we as a team have to pick up the load in encouraging each other out on the field and keeping the energy high," Vertefeuille said.
Field Hockey
The field hockey program continues to, as Coach Manaresi likes to say, "roll with the punches," that the pandemic continues to throw at them.
At the start of a season like no other, the student-athletes were split into five cohorts of 10-15 in order to limit contact before teams were developed. During the two week "tryout" period Coaches were only able to conduct conditioning and skill work, whereas in past years there would be more focus on offensive and defensive skills.
Varsity Coach Manaresi reflected on the new preseason set up, "In spite of the challenges, it was nice to have extra time to work on developing skills and fitness for an extended period of time to prepare for competitive games," Manaresi said.
Led by seniors Lauren Simonian and Ashley White, the team looks to safely persist through the season while improving their field hockey skills.