School mission for beautification in full effect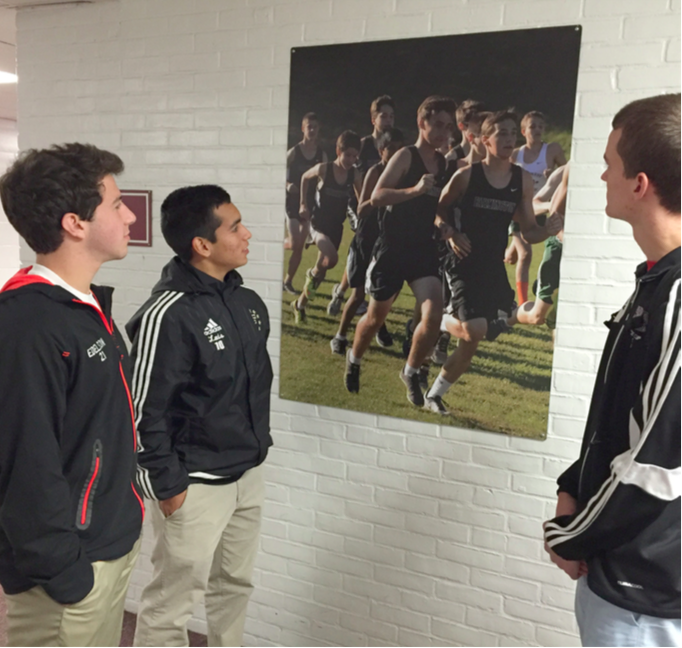 After a two-year study focused on enhancing the school's appearance, pictures of students were installed around the entire building during the summer to complete the positive school climate mission.
  Assistant Principal Lisa Kapcinski, administrative secretary Marybeth Petersen, yearbook adviser Ursula Fraley and art teacher Marguerite French worked with ARC Document Solutions to replace the blank facades of the building with the faces of students.
  "I started thinking about when you walk the halls if you get a sense of who we are as a school. I've worked here 16 years, and what I felt was missing is the faces of the students and the joy I see happening everyday involving relationships, teaching and partnerships. We needed to capture those moments in a day that make this a special place," Kapcinski said.
  These ideas encouraged the formation of the small committee that worked to accomplish this task. The yearbook staff, along with French and her photography class worked to create the photos that eventually would be placed around the school.
  "We started thinking about how the physical climate of the school reflects who we are as a community and working with our motto of "One School, One Community, One Us." I've been to other schools and you can immediately get a sense of the culture of the building based on the physical plant, and that's what I am trying to do," Kapcinski said.   
  Generally, the feedback from teachers and students has been positive.
  "It's an honor that I am in a picture that's posted for everyone to see. Teachers and students have said that I am famous. I think they make the school more welcoming and show the variety of activities that we have at the high school," senior Brianna Belisle said.
  Many students and teachers share the same general opinions about the photos around the school.
  "I've heard a lot of positive feedback from faculty and what I've been hearing from everyone is that it makes the school feel more welcoming and a little less institutionalized," science teacher Rebecca Shomo said.
  These pictures display students collaborating together on work, conversing, doing community service, or participating sports activities. Belisle is featured in an action shot of a field hockey game, and junior Navva Sedigh is in a photo with her fellow classmates eating lunch together in the cafeteria.
  "I am lucky enough to be a part of one of the pictures with all my friends and I think they show how close of an environment the high school really is," Sedigh said.
  Most of these pictures will stay up for a significant amount of time to leave a legacy for future generations to see. However, the class photo is planning on being cycled each year so that each graduating class has its own moment.
  Students are highly encouraged to submit pictures of their own.
  "The school is almost like a second home to all of us, and the committee and myself would love to receive additional photos from students that can even further make this a special place for all of us," Kapcinski said.