SAT is the better test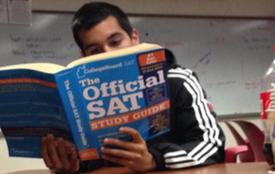 Hang on for a minute...we're trying to find some more stories you might like.
   Last week, the official state decision was made to replace the junior-level exam, formerly the Smarter Balanced Assessment Consortium (SBAC), with the Standardized Aptitude Test (SAT).
  After years of never being truly "satisfied" with our state assessment, we think this is a move in the right direction.
  Most students here strive to go to college. The SAT is already a part of the college process for 84 percent of students, according to a report released earlier this month by the Board of Education. By making the SAT the gauge of achievement, it will allow the district to gather data on student performance without actually making students sit down for more testing.
  It also fits in nicely with other assessments. Students will be able to apply the experiences with the PSATs, that they took in sophomore and junior years, to this test, and it all serves as good practice for whichever SAT will be sent to colleges.
  The district and the state is paying for all of these tests, whereas previously students had to bear the
$55 price tag.
  Besides the SAT better fitting the realities of students, the test itself is a better test content-wise. The
SBAC, which changed the questions to adjust itself to student-skill level, made comparing scores between students and districts difficult. The SAT reflects a more traditional, if perhaps unfashionable, notion of achievement – that everybody had ought to be performing on a level playing field. It gives students a better idea of where they stand in terms of their strengths and weaknesses as they prepare to apply for college.
  The one strength of the SBAC, its alignment to the Common Core Standards, will no longer set it apart when the redesigned SAT is released in March.
  Overall, when the SAT is compared with the SBAC, the choice seems clear. The SBAC is a new assessment that is still trying to find its feet in terms of standards and test design. It's been fought over
and still remains a controversial assessment. The SAT has enjoyed decades of nationwide administration and is widely accepted as a valid gauge of achievement. In the end, the shift to the SAT is a smart move.