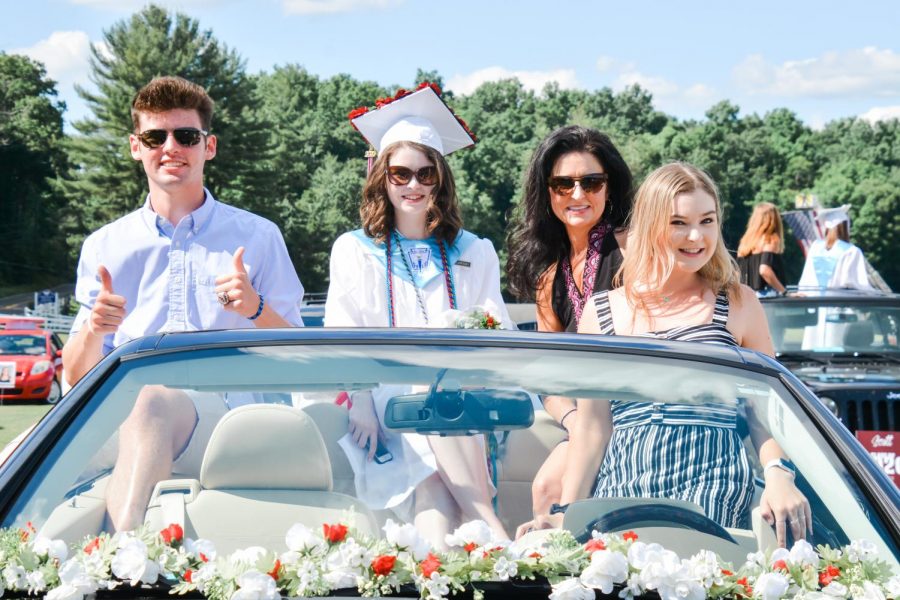 MJ Martinez
After being rained out on June 11, the Farmington Class of 2020 graduated on June 14 at the Farmington Polo Grounds. A modified drive-in style graduation allowed senior students to participate in commencement ceremonies while honoring safety guidelines set due to the COVID-19 pandemic.
The ceremony was made possible due to the ongoing efforts of the Farmington Public Schools Administration, faculty, and staff, the Board of Education, the Valley Health Department, the Farmington Polo Grounds, and all of the local police and firefighters. According to Principal Scott Hurwitz, the graduation was truly a "community effort."
The ceremony began at 5 p.m. and was available on livestream, radio transmission, and a large viewing screen. About an hour beforehand, students began filing into the polo grounds in cars into designated spots. The spots were labeled with signs of the graduates alphabetically. Faculty and staff bookended rows and were available to assist. Farmington Police were also readily available on the grounds to facilitate the easy flow of traffic in and out of rows, ensuring the safety of the participants from start to finish.
Once students were parked, the commencement exercises began and followed a traditional format with speeches from Hurwitz, Senior Class President Sia Goel, Salutatorian Rafaela Kottou, Valedictorian Brandon Demkowicz, Chairperson of the Board of Education Ellen Siuta, Superintendent Kathy Greider, and elected faculty speaker social studies teacher Patrick Mulcahy.
Demkowicz thanked his class for everything they have taught him; Kottou encouraged her classmates to persevere as they have through their untraditional educational journey, and Mulcahy offered advice to the graduates.
"First, live your life kindly. Live in the service of others. Bring peace, happiness, and hope to anyone who needs it, and I assure you that you will have all of those things for yourself," Mulcahy said in his graduation speech.
Following his speech, student names were read by Class of 2020 class advisers Kalyn Johnson and Ali Patterson. One row at a time, graduates exited their cars in masks, honoring social distancing as they approached the stage, crossed as their names were called, and received a diploma from Hurwitz.
Before filing out row by row, the Class of 2020 and their families were surprised by fireworks provided by Deane Williams of American Thunder Fireworks and funded by donations from Mark and Wendy Wilson who run the Reach Foundation and the Kevin Adorno Memorial Fund. Fire Marshal Mike Gulino, Farmington Fire Chief Mike Grabulis, Farmington Police Chief Paul Melanson, the Farmington Police and Fire Departments helped make the permit possible.
"I was honestly blown away with how amazing the graduation ceremony was. You could tell the administrators put so much time and effort into making our graduation the best it could possibly be, and I know myself and the rest of the senior class will always be grateful for that," senior Hanny Wolkoff said.
*All information and pictures used should be credited to The Voice of Farmington High School.