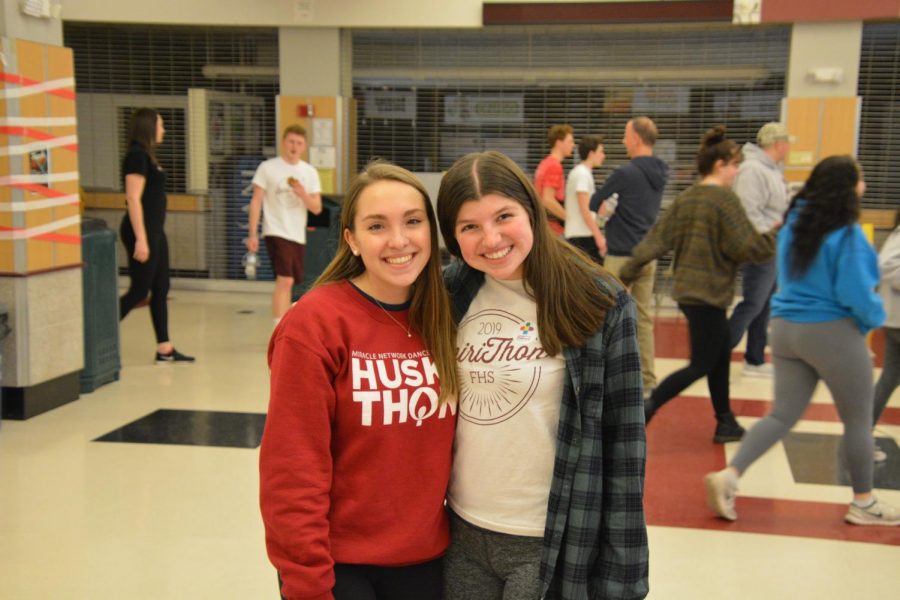 Patrick Mulcahy
SpiriThon hosted its fifth annual fundraiser on February 8, where activities took place in the high school's cafe and gyms. Profits from the event will go to HuskyTHON, an 18-hour dance marathon held at the University of Connecticut (UConn) in order to support patients at Connecticut Children's Medical Center (CCMC). The 2020 event raised $6,664.
SpiriThon, now in its fifth year at the high school, is advised by history teacher Patrick Mulcahy and math teacher Patrick Skerker. However, the student executive committee acts as the driving force of the club's actions. The 2020 committee was comprised of seniors Sophie Giuffria, Gilly Gereg, and Daniella Medvedovski, and junior Bryce Adib. For Medvedovski, the opportunity to join SpiriThon was presented through a friend. The positive environment and the charitable actions of the club are what attracted her and led her to take a lead role as an upperclassman.
"I heard about SpiriThon from a friend and decided to try it out. The first meeting I attended had such a positive environment and community feeling, with everyone working together to help out kids at CCMC, and I immediately knew that this was something I wanted to be a part of," Medvedovski said.
Leading up to this year's SpiriThon, the club has organized additional fundraisers. The clubs most recent charity effort before the February 8 event was a school wide collection of recyclable cans and bottles. On Friday, January 31, SpiriThonand student council members stood at both entrances to collect and sort recyclable items. From the 4,000 recyclables collected the "Recycle for the Kids" event was able to raise more than $200.
The high school SpiriThon event took place from 5:00 p.m. to 10:00 p.m. The night was filled with activities and games including dodgeball, tug-of-war, and basketball. Additionally, a trivia game was available for attendees. The event was supported by 18 local businesses that provided food and other commodities.
This year's special guest was Joy Scanlon. Scanlon has spent almost all of her life receiving treatment at CCMC, as she suffers from primary immune system dysfunction Common Variable Immunodeficiency (CVID). The condition leaves Scanlon with an antibody deficiency which leaves the immune system unable to defend against bacteria and viruses, resulting in recurrent and often severe infections primarily affecting the ears, sinuses, and respiratory tract. CCMC has been able to support Joy with immunoglobulins, a protein responsible for strengthening her immune system and preventing infection. In order to create the one vile of the protein Scanlon needs 10,000 human donors. Scanlon's mother Stephanie Scanlon also attended the event to help communicate the significant impact CCMC has had on Scanlon's life.
"Pretty much everybody from the janitors, to security,to doctors know who this child is just from walking down the halls and that is the kind of community that Connecticut Childrens is," S. Scanlon said.