Third annual Lit Fest brings in songwriters, authors, journalists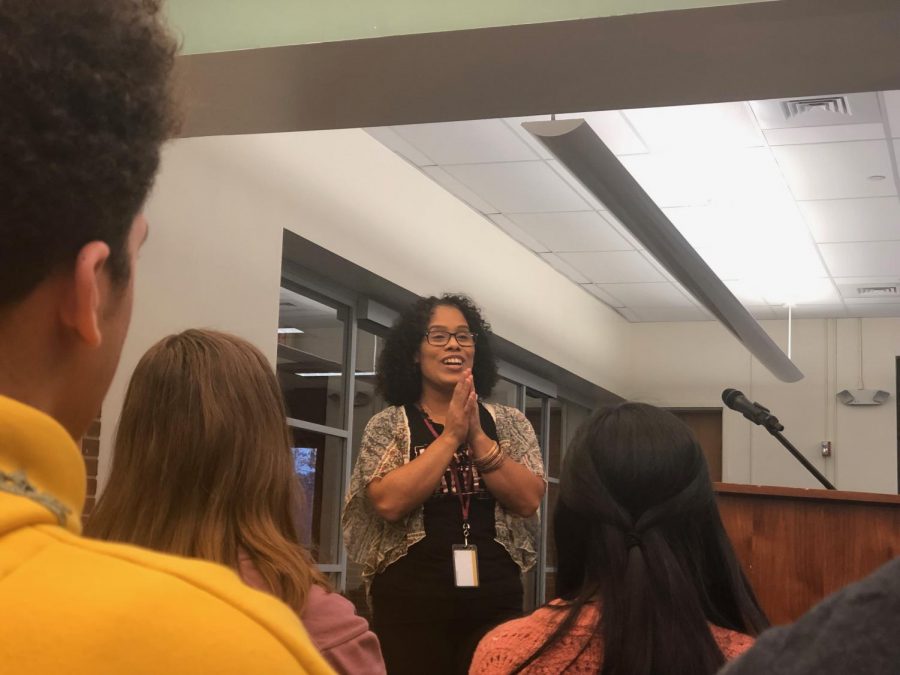 Madison Muszynski, Staff Writer
November 12, 2019
The third annual Lit Fest took place on Wednesday, November 6, through Friday, November 8, in the library. Students and faculty attended to see different authors, poets, songwriters,
and journalists present throughout the three days.
"Lit Fest is a three-day celebration of all things literacy. During Lit Fest, published authors, accomplished storytellers, award-winning poets, and songwriters come to FHS to speak to students and faculty about their work as well as lead creative workshops," library media specialist Jessica-Lynn Johnson said.
On November 6, guest author Sarah Darer Littman spoke about her latest book Anything But Okay and the steps of brainstorming ideas.
"I enjoy writing a lot so it was very insightful to listen to Sarah Littman present her own experiences with the writing process," senior Jessie Clarke said.
On November 7 and November 8, the Writer's Block tutors hosted "Writer's Idol," where they prompted students to write a piece of literature, and after they were finished, they'd get
tutored by the Writing Fellowship.
"Being a part of Lit Fest this year as a presenter was a really interesting experience. I was apprehensive about it at first because I was worried about if enough people from the audience would like the activities we had planned, but it was really great to see everyone in the audience excited," junior Writer's Block tutor Amelia Tuttle said.
The winner from Thursday, freshman Caleb Akerley, was able to rea his poem out loud in front of his English class. The winners for the Friday competition, which was the parody
writing contest, had their pieces sung by the tutors from the Writer's Block. Chandra Prasad, the author of the novel Damselfly, also came in to discuss her writing on Thursday as well
as Darlene TruePoetry, a spoken word poet, who came to express the importance of poetry and literature itself through her "Poetry Matters" slogan.
After school, students and teachers were allowed to partake in a poetry slam in the library hosted by Darlene TruePoetry herself.
"The aura around the event was calm and inclusive. A bunch of great poetry was shared and we all had a great time. Every year during Lit Fest, I work on a poem for a while and share it after school. This year, I shared a poem about hard work and success," sophomore Olivia Rose said.
Students and teachers were given time to write and perform their pieces in front of the crowd. English Department Leader Amy Miller took the opportunity to perform her own poetry.
"Engaging in poetry workshops and standing up and sharing my poetry always makes me feel vulnerable, but it also inspires me as a writer, a teacher, and a member of the FHS community," Miller said.
Friday was dedicated to songwriting and journalism, where Cassandra Kubinski and HuffPost journalist Hayley Miller talked about the similarities and differences of their writing process to the more traditional writing.
"I learned with the presentation is that journalism is an extremely broad topic. I will certainly try from now on to make sure my papers are as informative and unbiased," senior Journalism student Donovan Banks said.
Students were given the chance to perform musical pieces in the library, like senior Zoe Cosentino and musicians Come To Terms made up of seniors Kyle Wogelius and Jaden Drozd, and junior Gabe Gantkin. The Edge Media Space provided musical
equipment.
"Overall, this experience gave me a lot of insight into songwriting as well as a big rush of excitement from the performance aspect. Sitting in front of a library full of people and being allowed to play my song and then explain it was awesome," Cosentino said.