Social justice advocates further learning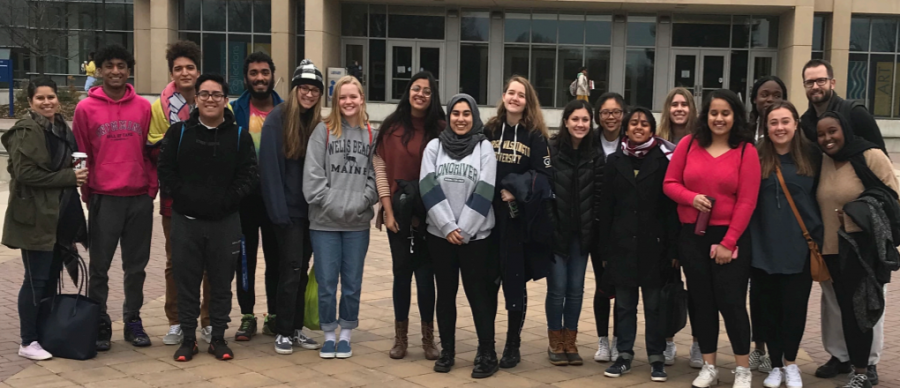 Students had the opportunity to visit Southern Connecticut State University (SCSU) and participate in activities involving social justice. Students viewed the Art Exhibition as well as listening to a presentation from Dr. Bettina Love, who is an award-winning author and Associate Professor of Educational Theory and Practice at the University of Georgia.
Love spoke on topics such as the representation of black culture through hip-hop, and how through the power of the human spirit, love and joy can be formed from oppression and discrimination. Students discussed how Love's ideas on social justice can be brought to the high school.
"I didn't expect the art exhibit to get such an emotional rise out of me. I thought it was going to be interesting, but the way the sculptures were portrayed and made paired with the stories of those women made the art very real and intense," senior Meredith Moore said. Students took this field trip as a time to focus on what ideas could be incorporated into the high school's Social Justice Week presentations, which will be held in February. Students also had the chance to listen to a presentation on the Sheff Movement given by experts ranging from lobbyists, to local advocates, to plaintiffs on the case.
The Sheff Movement was formed as a result of the Sheff v. O'Neill case in 1989. Elizabeth Horton Sheff, along with other families in the community, wanted to redress and receive acknowledgment of the inequality of the level of education given to students in the Hartford Public School system compared to students in the suburban districts surrounding the
capital. Student Activities Director Chris Loomis, advised both trips along with English teacher Vanessa Clarke.
"FHS students were able to get an inside look at what it takes to create change both at a local and state level. They were also able to see first-hand the key players that are involved with the Sheff Movement and listen to what needs to be done to push this
movement forward," Loomis said.
Students learned about the Sheff Movement and were faced with ideas regarding the inequality of education in Connecticut and how the movement has advocated for the ongoing discrimination and injustice put upon students living in urban cities.
Students from the high school worked alongside students from the Academy of Aerospace & Engineering(AAE) to put together a combined assignment that they will work on through the course of the school year.
The students will work together to give presentations in a workshop for middle school students in the future. The high school has worked with the AAE previously and continues
to work with the school on activities related to social justice issues.
Students will be using what they learned on the field trips and incorporating these ideas into their Social Justice Week presentations, which will be held on the week of February 10.