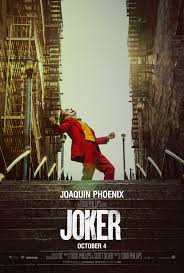 IMDb
*Spoiler Alert*
To the delight of some and the dismay of others, The Joker opened in theaters on October 4 featuring
Joaquin Phoenix as the new main character, Arthur Fleck aka Joker. The movie received mixed critical reviews and high praise from fans, Rotten Tomatoes scored the film at 68 out of 100 percent while the fans gave an 89 percent rating.
Upon its release, the genre and content of the film sparked controversy among fans for a number of reasons. Some fans felt that Heath Ledger's portrayal of the character was too good to be replaced, while others were excited to see an iconic villain return to the silver screen for a solo story. Despite these debates, the film was overall very well received by fans and critics alike.
Another issue was the content of the film itself. Despite its R rating, many parents believed that Joker would follow the trend of comic book movies and be kid friendly, similar to the Marvel films that have been released in recent years. Many children walked into the theater, then had walked out early due to the deeply disturbing nature of the film, like the murder of three young men on a subway train.
Also, these murders not only sparked Fleck's murdering spree, but also a revolution between the "disenfranchised" and the rich of Gotham City. Ironically, this also leads to the
creation of his arch nemesis: Batman. Yet, what worries people the most is the potential for this type of film to inspire copy-cats.
Additionally, the film lacks a protagonist. The Joker is the main character, but his actions make you not want to root for him as the film progresses. Although some people may be able to empathize with his character, Joker is overall more of a main character rather than a protagonist that the viewer would want to "succeed." The viewer both feels bad for him due to his deteriorating mental health, but also recognizes that his actions are impossible to justify, regardless of the trauma he has faced throughout his life.
Despite these issues, the film was phenomenal in almost every way, the music, cinematography, character development, and casting were all exceptional. The music especially helped to amp up the already creepy atmosphere to really enhance the experience.
The filming is also amazing, with a combination of close ups and a few wide angle shots mixed in as well.
Overall, the film is quite good, although the dark tone may turn some away, but if you enjoy a dark, sometimes humorous film, The Joker can't be recommended enough.