New writing center launches, students learn to tutor
New writing center fellows learn the tools and tricks of the trade, from elite at conference at the University of Connecticut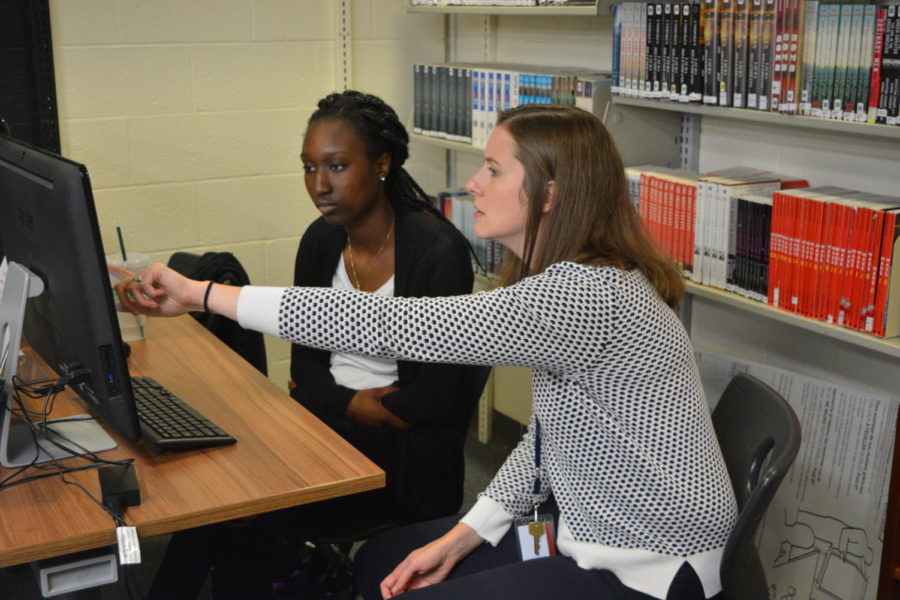 Madison Muszynski, Staff Writer
October 3, 2019
Nine of the 12 students enrolled in the half year course, titled Writing Fellowship, went to University of Connecticut (UConn) for the twelfth Annual Secondary School Writing Center Conference on Friday, September 27. There, they attended different workshops and breakout sessions to learn more about marketing their writing center, peer tutoring techniques, and how UConn manages their own writing center.
The juniors and seniors enrolled in the Writing Fellowship elective will apply the new techniques and methods learned in the high school's own classrooms and new writing center named The Writer's Block.
"At the conference I learned that although structured learning is helpful, treating everyone equally doesn't always mean doing the exact same thing for everyone, but rather what that student in particular needs", junior and first-year student tutor Amelia Tuttle said.
During the conference, students learned how to start a tutoring session, the difference between a tutor and an editor, and different ways to level with a tutee in order to help them. The Writing Fellowship class is also conducting tutor sessions with Writing Fellowship teacher Shea Benton-Reger, both inside different classrooms and in "The Writer's Block," located in the library under the stairs.
"Running The Writer's Block with students is a lot of fun. It's nice to have company and to talk about what I do. It's great to have the support of other tutors so that more students can receive help, and it helps me stay on top of my own practice as I work with students," Benton-Reger said.
The new half-year course is open to both juniors and seniors who are interested in helping their fellow peers with their writing techniques, ranging from history papers to college essays. The class meets everyday period two, giving the tutors information on where they're needed throughout the day, while also practicing how to tutor others using role-play lessons and mock sessions.
"I love the mock tutoring we do in class. I've found it really helpful and a lot of fun to explore the different types of situations with people I've already become comfortable with before venturing out into classrooms or the center," Tuttle said.
The Writer's Block is open all periods throughout the day, usually being accompanied by one or more student tutors. While the tutors encourage all types of writers and progress in pieces, they do recommend coming in with an open mind.
"Having a negative mindset when coming into the center can be challenging, not only for the tutors but also for the student's own progress. We're there to guide their thinking and help strengthen their skills, not to criticize," junior and first year tutor Krithika Santhanam said.
The Writer's Block's schedule will be posted on the door to the library everyday. The class also has an active Instagram (@fhswritersblock), and plans to utilize social media as well as school events to further promote the class and its purpose.
"I'm continually impressed with their creative ideas on how to get the center up and running and the effort they've put forth on their own time given that this is an elective and they have so many other things expected of them," Benton-Reger said.
The Writing Fellowship elective will not run second semester, but the Writer's Block will still be in use throughout the school year with the current fellows officially trained. If interested in receiving help and/or feedback, stop by the library or schedule an appointment at [email protected]