Bright colors, graphic tees grace men's fashion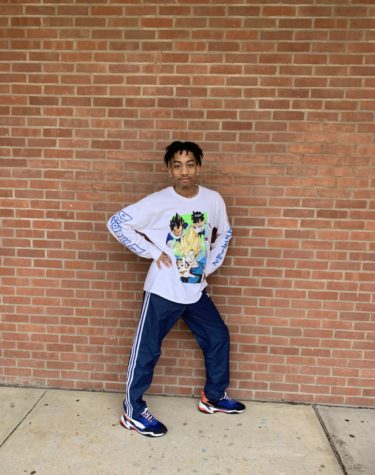 Boys at the school are quickly finding their spring and summer style as temperatures start to heat up. New staples have arisen in the men's fashion world, and the boys have quickly caught on to the new trends.
Graphic t-shirts have always been around, but similar to the girls picking up on the old overall trend, graphic tees have started to become more and more popular at the high school. A few go-to stores for these iconic tees include American Eagle, PacSun and Hollister, to name a few. These graphic tees are especially popular around school, and it's not uncommon to spot a few boys twinning by accident with one another.
Summer brings out the brightness in all of us, and it seems to be doing the same thing for boys' fashion choices. Bright colors are all over the school, whether it be neon graphic t-shirts or brightly colored shorts. Summer plaids are a great choice, especially when you add in the bright summer colors such as mint or pink.
The bright colors have worked their way into the boys' shoe choices at the school as well. Bright white shoes and neon colors are being seen throughout the hallways just in time for the warmer weather.
Vineyard Vines is here to stay. Boys are bringing back the iconic whale shirts and bright shorts from this coveted brand. This store is a go-to stop for boys looking for a nice outfit to wear for dinner or simply for some cute clothes to wear to school. A new style of shoe that the boys have been rocking are the Converse. This shoe is a staple style for the girls, as they wear them year round, but boys have just started to pick up on it. These sneakers are comfortable and stylish, and the guys in school should all hop on this trend.
The only style that has stayed constant throughout the years for boys are the athletic wear, dominated by brand superpowers Nike and Underarmour. Boys rock these shorts, socks, sneakers and t-shirts year round. This style is one that is here to stay.
Girls fashion keeps up with the times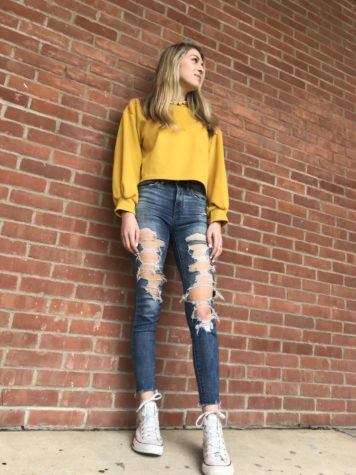 Unsurprisingly, the girls at the high school never fall behind a trend. As the weather gets warmer, new spring and summer fashion is hitting the hallways. This season, high platform espadrilles sandals are the latest obsession in the shoe industry. The imported suede on the top of the sandal comes in different colors and can be paired with any outfit. Steve Madden is every girl's go-to store for these awesome sandals, as they can be dressed up with a cute dress for dinner or dressed down with jeans and a tank top for school.
A new shoe has become all the rage this year, and that is the all white Air Force 1s from Nike. This classic shoe has risen in popularity over the year, and similar to the popular espadrille sandal, this shoe can be dressed up with a nice dress or dressed way down with a pair of sweatpants.
These sneakers are super comfortable, and are perfect for walking around the city or simply to wear around school.
Vans have exponentially risen in popularity this school year, and girls and boys alike are seen rocking different vibrant spring colors and classic slip ons. This shoe is another one that can be dressed up or dressed down; it's up to the wearer. By no surprise, PacSun will be the go-to store for clothing. Carrying popular brands such as Brandy Melville and L.A Hearts among others, PacSun brings stripes and light vibrant colors to life through their many pieces, including cute graphic t-shirts and light cropped sweatshirts. The colors and stripes this store sells is perfect for the warmer weather.
Another returner this season are overalls in all colors and washes. These cute clothing items are perfect for a summer country concert or for hanging out with friends.