Empowerment project inspires girls, brings color to halls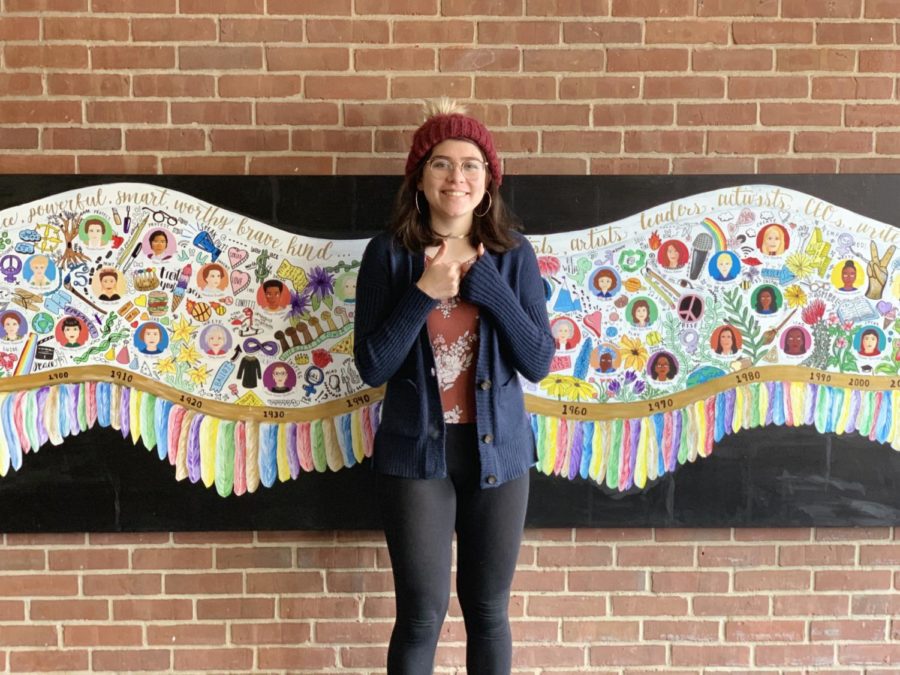 Junior Sophie Shack recently installed her empowerment project outside the cafeteria in the 600s hallway. The project features two wings, spanning a total of 12 feet. The wings have pictures of 30 influential women in history, colors and a place for viewers to take pictures between the wings.
The project, which she completed for social studies teacher Amanda Roller's Government and Law class, focuses on encouraging students to do civil work for their communities.
The Government and Law class teaches students important aspects of the United States and its history, as well as encourages students to be productive members of their community.
"In this class, students complete an Empowerment Project, which requires students to demonstrate active citizenship by picking an issue they are passionate about and planning a project that has a positive impact in our community. Sophie [Shack] chose to focus on female empowerment in today's society. She chose to highlight injustices that women face in society today while also offering inspiration to build the confidence and power of women," Roller said.
In completing the mural, Shack hoped that students would be able to take a photo in front of women who have shaped the world. The women pictured span from the 1820s to modern day and are from all walks of life.  Each figure was designed by Shack on Photoshop and then printed and added to the wings.
The mural features traditional and nontraditional aspects of femininity, such as hearts, flowers, math equations, and test tubes.
"I hope that girls especially will feel empowered and inspired to achieve whatever they want, no matter how unachievable it may seem. All of the women of each wing experienced this sort of conflict in their lives, but they are evidence that women are capable of so much more than what society thinks," Shack said.
The mural has been appreciated in the high school's hallway, and many have taken pictures in front of it. On International Women's Day, which took place on March 8, female students were seen posing for selfies in front of it.
"I love the detail and skill of the mural. It is so beautiful. Most of all, I love that by standing in front of it, we can wear the wings of these powerful women and join the narrative. It is incredible," social studies teacher Meg Monaghan said.
Shack has been an activist long before the completion of her project, known for her role in BRAVE, a club that focuses on female empowerment and leadership. In addition to creating her mural, she spoke at this year's Social Justice Week about contemporary feminist issues and how to encourage empowerment in the community.
Looking up to women like her sister, aunts, grandma, and mom, Sophia hopes to continue advocating for female empowerment.
"Despite having finished the mural, I hope to continue to pursue my passion of art, social justice, and gender equality, and hopefully be able to find another opportunity to empower people again in the future," Shack said.