NSHSS practices raise suspicions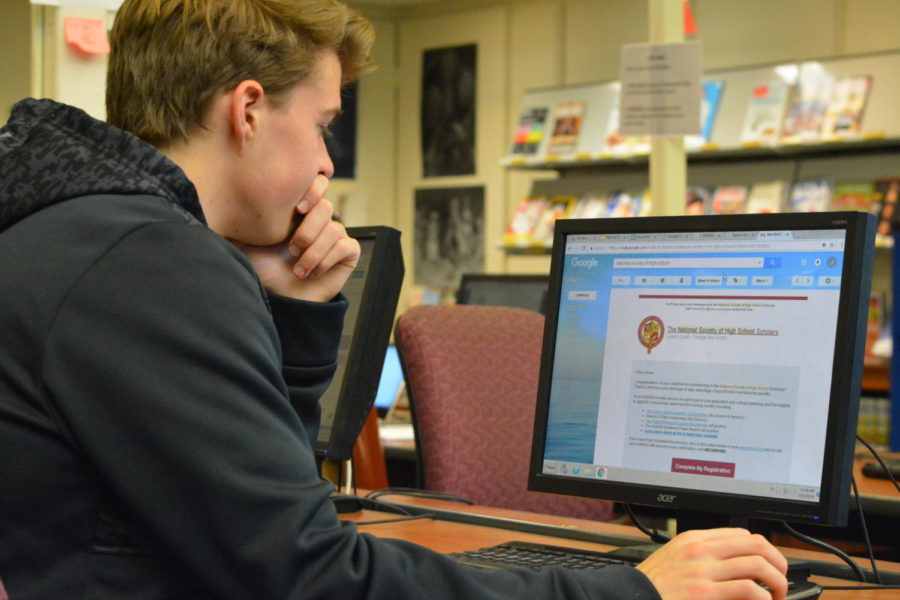 The National Society of High School Scholars (NSHSS) is a honors society that, according to their website, offers opportunities such as scholarships and college fairs to its members. It sends emails and letters to students, inviting them to join for a $75 fee.
According to the customer complaints on their Better Business Bureau (BBB) page, families often confuse NSHSS for the National Honor Society (NHS), a selective organization for high schoolers that has a chapter at the high school advised by English Department Leader Amy Miller and Spanish teacher Stefanie Pagano Kor.
"Like many of the other complaints, we too, received the invitation right after my daughter got accepted into NHS. What really makes me sick is that the envelope to the invitation was hand written along with her school name in the bottom left corner of the envelope. She was so excited, as we too, paid for a cord for her graduation gown," a parent said on the BBB website.
School counselor Kimberly Hudock advises students against joining, saying that paid accolades like NSHSS are illegitimate.
"It takes advantage of students who are excited about being nominated, but it does not have the prestige that they might be looking for," Hudock said.
This was seconded by Julia Pitassy, Associate Director of Admissions at Trinity College, who stated that NSHSS membership on a college application has no effect on her decision to admit or reject a student.
"It is commonly viewed as a scam in the admissions world. In general, you should not be asked to pay any money to access scholarship opportunities," Pitassy said.
However, Bree Gordon, Member Services Coordinator of NSHSS, states that the organization offers "fee waivers" to students who would otherwise be unable to afford membership. Gordon also elaborated on the benefits of membership, claiming that members will be able to apply for scholarships, networking with other students, and participate in various educational activities.
According to NSHSS, the organization "has inducted 110 scholars from [the high school] since 2003, 19 of whom are still current students." Senior Alex Sowinski turned down an invitation to join because of the membership fee.
"I just didn't feel comfortable paying for an honor society . . . It just seemed like more of a promotional company, rather than one focused on students' actual grades and achievements," Sowinski said.
Students usually receive emails and letters from NSHSS after signing up for the College Board Student Search Service on the SAT, PSAT, or AP answer sheet. Organizations like NSHSS use the information from the search service to target specific groups of students but cannot access actual test scores.
In addition to informational materials, the envelopes the organization sends out include bumper stickers that read, "Proud Parent of a Scholar." Hudock advises students to be cautious when they receive promotional materials through the student search service.
"Just because something arrives in the mail does not mean it is the best choice for a student… Students should always feel welcome to talk about this with their school counselors to gain a better understanding of why they are receiving applications and what they might mean for their futures," Hudock said.
Unlike the NSHSS, the NHS does not have a membership fee. According to an outline of the NHS selection process, applicants must meet certain academic criteria like a weighted GPA of at least 90 percent. Additionally, school faculty evaluate the applicants based on "character, leadership, and service." In contrast, the NSHSS only requires that students meet any one of several academic criteria, which include a minimum GPA of 88 percent or a SAT score of 1280 or higher.