Students sing at Senior Cafe
Annika Sager, Features Editor
October 30, 2017
The high school welcomed senior citizens at annual Senior Cafe music performance in the cafeteria on October 2o.
Music department chair, Leslie Imse, partnered with The Farmington Social Services Department and the Senior Services to provide a dinner and show for senior citizens in the community. Typically, 80 to 100 senior citizens attend the event.
Students picked music that they found suited for their audience and auditioned with that piece. They had a lot of say in what they thought would be entertaining and appropriate. Following all of the auditions, various musicians were selected to perform.
"The Friends of Music, a music parent organization, prepare the food for dinner.  The food is donated by families of music students.  The senior citizens come at 4:00 p.m. to the high school cafe and enjoy dinner and a show," Imse said.  
Some students who performed also helped wait tables of the seniors while dinner was served. The Friends of Music, a music parent organization, prepared the food for the occasion.
Seniors Sasha Goldblatt and Caterina Wang performed in this event. They both played two songs with various other musicians such as Somewhere Over the Rainbow and Here Comes the Sun. Goldblatt enjoyed getting the opportunity to participate and share her craft every year. Wang loved getting to meet and chat with the seniors.
The cafe allows musicians to get performance exposure and the chance to be creative and play pieces that are not coming straight from their class. It also builds connections between the senior citizens and high school students.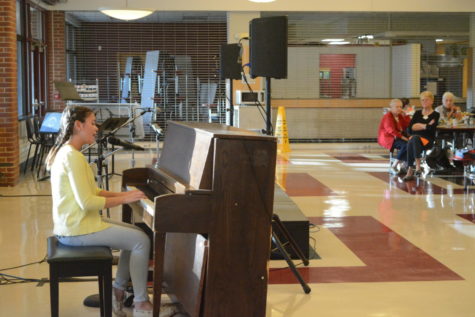 "This opportunity has really improved my performance and conversational skills over the past few years. It helps performers build their confidence in front of a small audience, and serving and talking to the senior citizens helps all of us build our conversational skills, and we get to learn a little bit about other people. It's a fun little event that is a tradition for FHS music," Wang said.
This event has been school tradition for the past nine years. Imse described it as a unique opportunity to bring groups in the community together.
"This event has made me someone more aware of the Farmington community, and the role which music plays in this.  I truly do believe that music is the heart of Farmington.  It never fails to bring people together," Goldblatt said.