Beauty and the Beast cast performs two sold-out shows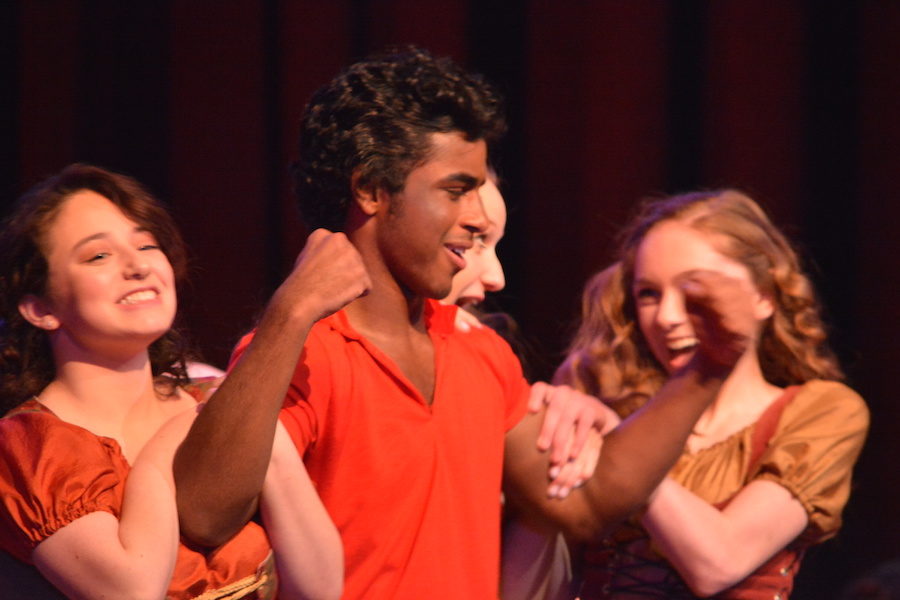 Bella Podgorski, Managing Editor
March 15, 2017
Beauty and the Beast, "a tale as old as time", showcased the musical and acting talents of the cast from March 9 to March 11. As a spin of the dated French fairytale, a Disney musical loved by many, Director Katie Buckley and Assistant Director Vanessa Clarke and the entire cast brought it to life.The show sold out both Friday and Saturday after its opening night on Thursday.
 The musical featured Belle (senior Catherine MacKay) being imprisoned by the Beast (junior Matt Plona) in an attempt to save her father (junior Nicholas Rossitto) from the castle of the Beast, whom is masked as a gruesome creature feared by the townspeople.
Following her imprisonment, she quickly needed to become acquainted with those who live in the castle: objects who were once humans, such as Mrs. Potts (junior Megan Caccamo) and son Chip (freshman Bella Cruz), Lumiere (sophomore Tristan Wong), Cogsworth (junior Matt Thureson), Madame de la Grande Bouche (sophomore Samantha Scheidel) and Babette (junior Elena Jimenez-Mcdermott). The objects are only able to return to human form if the Beast breaks the curse.
  The musical gave the audience a closer look within the lesson of inner beauty versus outer beauty. The Beast may be perceived as fearsome, but after Belle soon learns about his genuine heart and his inner strength, true feelings start to form, leading to Belle breaking the curse through her confession: "I love you."
"Playing Belle was absolutely amazing. It is something I have dreamed of my whole life. She was a role model for me growing up. Back in 1991, Belle was revolutionary. She breaks all the princess stereotypes that were formed pre-90s. She doesn't fit in her town, she is an outcast and teaches us that being different is okay and to stay true to who you are. She is curious, intellectual and takes matters into her own hands. Belle does the saving. She saves the Beast by teaching him to love," MacKay said.
Many big ensemble numbers as well as harmonies and lines had to be memorized and perfected in preparation for the musical. Music Department Chair and Vocal Music Director Leslie Imse added how it was a pleasure to work with the cast as they were very supportive of one another.
 "As March approached, music rehearsals were more intense and we met with some of the cast on a daily basis. Singing a solo or a duet is much like an athlete; you have to learn good vocal technique and develop endurance," Imse said.
However, music preparation was not the only aspect that contributed to the high quality performances. Technical aspects such as the rose effect, had to be taken into account prior to the performances. Senior Aidan Sepa was directly involved in the creation of the enchanted rose seen on stage.
According to Sepa, the creation of the rose was displayed by doing a "Pepper's Ghost effect." This effect is where a monitor faces straight up and projects an image onto a piece of glass that is tilted at a 45 degree angle towards the audience. When done correctly, this results in the image on the monitor being reflected onto the glass and looking as if it is floating in the air like a hologram.
"I was responsible for creating the rose. To create it, I made a 3D model of a rose from scratch in a modeling program called Maya. It took around 30 hours to create all versions of the rose from fully bloomed to wilted and around 96 hours to render each of those versions into still images. After I rendered out stills of the rose, I then imported them into Adobe After Effects and rendered them out into a video to put on the monitor," Sepa said.
Actors involved in the musical had long days of rehearsal and had to commit to their role while preparing. After viewing the musical, it was evident that the practice paid off. The casting was spot on as each actor seemed to really suit their character.
Plona, taking on the role of the Beast, had to personify a challenging role with both musical and acting elements.
"Playing the Beast may have been my favorite role. He is such a well-rounded character, with hints of anger, comedy and love. It was fun to figure out was to make the audience feel certain ways about him. People would tell me that I made them hate me, feel sorry for me and love me all at the same time, and that made me happy because that was my goal," Plona said.
Jimenez-McDermott added how the musical consisted of a cast that really bonded this year. She also recognized how new members to the drama program significantly contributed to the show's success. In addition, Jimenez-McDermott saw how with help from both Buckley and Clarke the actors were able to execute this show.
The tremendous popularity and success of the show was a combined effort that transferred over onto the stage.
 "I thought the actors performed exceptionally well. It was really nice to see all of it come together in the end. There is all this work that goes into it by all the students, including the actors, the tech and sound students, the people who help with the lights and paint the sets as well as the construction. So when you get to the last couple of days, and you see it all as it's meant to be seen, it's really cool seeing it all come together," Clarke said.
Through all of these collective efforts, this production was enjoyed by both the audience members and the cast themselves having seen it come to life.
"The musical was such a wonderful experience and way to end my high school theater career. It will forever one of the highlights of my high school years and overall my whole life," MacKay said.