Year of the Rooster is celebrated worldwide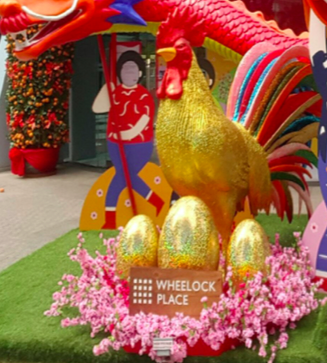 Across the globe, communities celebrated the start of the year 4715 and the Year of the Rooster in the Chengshan calendar on January 28. This holiday was celebrated primarily in Eastern Asia, however there were celebrations that took place throughout the state.
The Chengshan calendar, that marks the start of the Chinese lunisolar new year and as well as holidays, seasons and festivals throughout the year, was created in 1664 by two German Jesuits, Johann Schreck and Johann Adam Schall von Bell.
The calendar, named a er the last emperor of the Ming Dynasty, was considerable more consistent than any previous calendars. As a result, the it was adopted by the first Emperor of the Qing Dynasty and the calendar has been used in many areas outside of China since. Tibet, Vietnam, South Korea, Mongolia and Taiwan celebrated the start of the lunar new year on January 28.
"My family [in Taiwan] gets together on New Year's Eve and has a big dinner… And then on New Year's Day there's Dragon and Lion danc- es. And kids ask for 'red bags' which contain money," senior Erin Wang said.
In Farmington, where community celebrations are limited, many families celebrate the new year at their homes.
"My family … generally use the New Year as an excuse to spend time with my extended family and eat more 'New Year's food,'" sopho- more Joanne Le said.
There were also community celebrations that take place throughout the state of Connecticut. The Chinese Cultural Center (CSS) hosted their annual meeting and gala show the day before to showcase artifacts of Chinese history before the new year. In addition to the CSS, the Chinese Language School of Connecticut (CLSC) hosted its 11 annual Chinese Lunar New Year Festival on January 27. The festival included the performances of traditional Chinese dances such as fan and ribbon dances, the lion dance and the dragon dance.
The CLSC mission statement is, "To serve as a bridge between our students and clients and the larger Chinese learning community by offering our Chinese language and culture program."
"I think celebrating two new years give me a different perspective on life. I get to experience two different cultures not only for the New Year but throughout my entire life. I get to learn about American culture everyday, but I also get a glimpse of a totally different culture across the world," Le said.