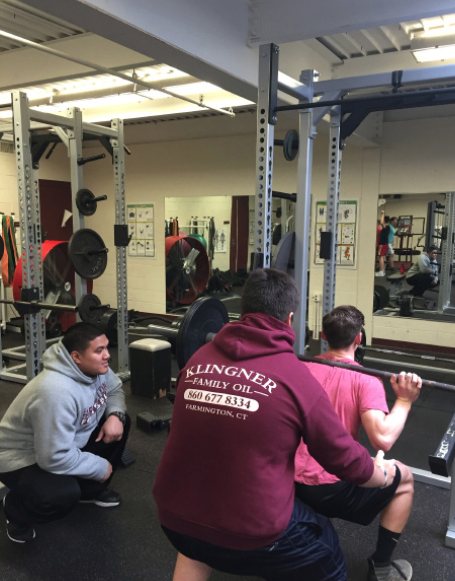 Adrian Grabowski
After regularly going to the fitness center to work out after school for several months, juniors Matt Lynch and Murphy Gruninger found themselves at the head of a new powerlifting club.
With the help of fitness trainer Jay Mendoza and approval of football coach Chris Machol, they established the group soon after winter break in an effort to improve their workout regimens and encourage others to do the same.
"The process was pretty easy. We went back and forth between coach Mendoza and Mr. Johnson and eventually decided to make it a club. It was a much easier process than I had initially anticipated," Lynch said.
Mendoza approached the juniors with the idea after they had been coming to workout after school every day. He was motivated to raise the idea because he has an interest in the sport, frequently participating in powerlifting competitions and winning several.
"I became the advisor because I am passionate about helping kids and I am passionate about the sport of powerlifting. Powerlifting is different than any sport because anyone can truly succeed if they put the work in," Mendoza said.
As club adviser, Mendoza has a major role. He establishes a workout for each participant at the start of each day and enters all of their lifts on a spreadsheet to keep track of how they have been progressing and identify areas for improvement.
During these workouts, members work together to help each other improve, whether it is simply to complete an exercise or perform in competitions, such as the powerlifting event that took place on April 3, in which Lynch and sophomore Rita Monahan faced competitors in their age division and weight class.
"Even though lifting is not a team sport, we still cheer each other on and try to push each other as much as possible. A big part of powerlifting is mental, and it's nice to have others there to support you and encourage you when you're going for a big lift. Sometimes you need others to watch and tell you just what you are capable of because it can be hard to tell when you're under the bar," Lynch said.
The club's leaders have not made advertising and recruiting for the club a top priority. Even with its current limited membership, it can take awhile to get through all the workouts.
"I believe this can be a great club with the right amount of exposure. Many people are timid when it comes to lifting weights, but powerlifting is not about lifting more weight than the other person. It is about being better than you were yesterday. The great thing about powerlifting is that it can be for everyone," Mendoza said.
New members could not be on the same workout plan because they would need to spend time on a beginner plan to build themselves up before handling higher workloads and building a tolerance. However, the club encourages everyone to join.
"The biggest struggle for a lot of clubs is passing on that passion that the creators of the club have to other kids and younger grades to keep the club alive even after the original creators have graduated. You don't want to make a club that lasts for only a year and then just dies out," student activities director Carl Johnson said.
The club meets Monday, Tuesday, Thursday and Friday after school from 2:30 p.m. to about 4:00 p.m., or however long it takes to complete the workout of the day. Anyone is welcomed to come.
"The powerlifting club taught me a lot of knowledge about certain lifts that can be used for the rest of my personal training career. I would highly recommend this club to anyone that is interested in personal fitness and wants to drastically change their body," junior Naesan Ponnudurai said.